Snoop Dogg Joins The Call Of Duty Franchise As A Character
In what is one of the best and weirdest crossovers we'll see this year, Snoop Dogg is now a character in the Call Of Duty franchise. The legendary rapper will be coming to all three current active titles, as we will see him added to Vanguard, Warzone, and CoD: Mobile. The first one will be the mobile app as he will go live into the game on April 1st, followed by the two console/PC titles later in the month. We have the rundown of how Snoop will appear in each game and how you'll be able to utilize him and his doggy style.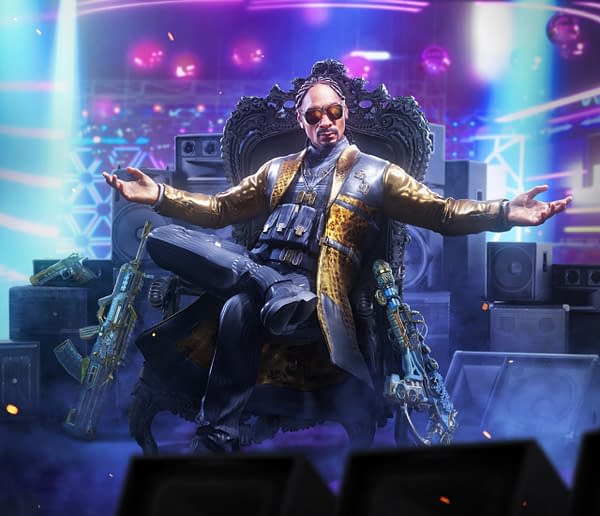 Call of Duty: Mobile

This Lucky Draw will include a Snoop Dogg Operator for Call of Duty: Mobile, which has him decked out head-to-toe in a 24K gold embroidered outfit. It also includes a new signature weapon based on a fast-firing Legendary SMG that's gold-plated and diamond-encrusted. Light up your enemies under the lights of a mini-concert with this weapon's unique death effect, and see your iced out weapon get even flashier as you earn eliminations. More details about Season 3 and this draw will be available later this week.

Vanguard & Warzone

Meanwhile, over in Call of Duty: Vanguard and Warzone, the Snoop Dogg Operator Bundle will be available on April 19 at 10 AM PT. And just so we're clear on high-level details: the Snoop Dogg in Vanguard and Warzone is separate from the Snoop Dogg in Call of Duty: Mobile. The Warzone and Vanguard Snoop Dogg Operator Bundle will include ten items — three exclusive to Vanguard — and a full Operator progression track. Rewards across these 20 levels of Operator progression include Weapon XP for Snoop's preferred weapon from Vanguard, three alternate outfits, and other cosmetic items.

This won't be the first time Snoop Dogg dropped into Call of Duty, as fans will remember his Snoop Dogg Voiceover Pack in Call of Duty: Ghosts. Snoop's voice — with all new lines recorded for his very own Operator — returns to Call of Duty in the Snoop Dogg Operator Bundle for Vanguard and Warzone. We're just as excited as you are to reintroduce one of the most iconic rappers alive to Call of Duty. We know it's kind of hard being Snoop D-O-Double-G, but it's also tough keeping the community waiting on official details for his Vanguard and Warzone Bundle.

The best packs are kept sealed until they can smoke out the whole lobby — rather than keep it stale, we will share the full details on that Operator Bundle's items before they drop on April 19.