Stardew Valley Just Got Something New In Willy's Fish Shop
A new update to Stardew Valley this week has given players something new and odd to see in Willy's Fish Shop. The game's creator ConcernedApe, also know as Eric Barone, posted a little update about the game on Twitter today, showing off something new to the players. The message, which came with the image you see below, said "Stardew Valley 1.5 update… notice anything new in Willy's shop? Progress on the update is coming along steadily. It's still in a "nose to the grindstone" phase, but some good milestones have been met. This update adds a significant new piece of end-game content and much more!"
In case you haven't played in a while and don't know what he's talking about, aside from some new decorations by the fish on the wall, the shop now has a backroom door! Previously in that same location, there was just a ladder. But now you can see the ladder has been moved tot he side and this new door that wasn't there to begin with is now in the shop.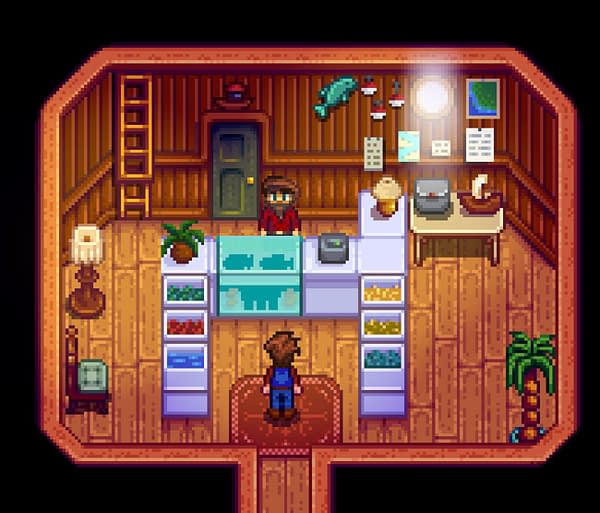 The update hasn't been made to the game yet and there's been no word about anything being added since February, meaning everything he's working on is totally top secret and there's nothing to go off of. So, of course, social media has gone crazy with theories. While we haven't seen this one on any official forums, we think it may have something to do with the hat above the door. In Stardew Valley, often times when you fish, you find yourself collecting trash. It's possible that while you're out fighting, you might come across a new little piece of headwear out in the ocean or in a river. It's just a thought, especially since we haven't seen that hat in Stardew Valley before. But it looks like we'll have to wait for the update to come to find out.