Stardock Entertainment Announces Siege of Centauri
Stardock Entertainment announced a brand new sci-fi tower defense game called Siege of Centauri, set in the Ashes of the Singularity universe. The game will put you as the commander of the defense of Earth's first colony, and you must determine the best strategies to keep the place standing and stop tens of thousands of alien machines from tearing you down. Much like other tower defense games, once you succeed in one spot, you'll move onto better towers with more challenges. No official release date was given for the game, but we did get some screenshots and a detailed explanation from the devs on where the game came from for you to read below.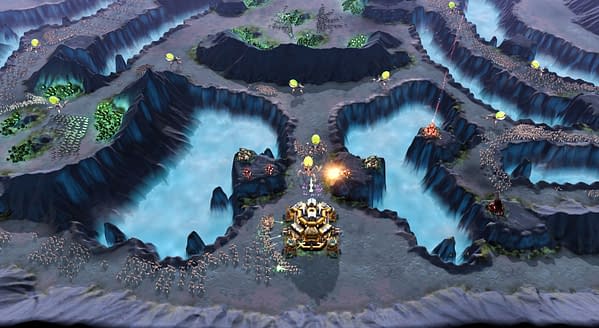 We first got the idea for the game while developing Ashes of the Singularity. With the engine's ability to handle tens of thousands of units, we wanted to design the ultimate tower defense game. Siege of Centauri incorporates classic features from the tower defense genre and combines it with the unique features and capabilities first seen in Ashes of the Singularity.

With our engine, there were so many new gameplay elements we could add. For instance, our engine supports hundreds of simultaneous light sources allowing us to design interesting choices for players when it comes to map vision. Similarly, by supporting so many units, we can make defense choices in different situations much more compelling, as there is a big difference between choosing a weapon that eliminates one unit at a time versus one that is designed to take out hundreds at a time.