Warm up your Eggos and grab your dice, as Behaviour Interactive and Netflix both officially announced Stranger Things is coming to Dead By Daylight. The latest chapter will take you to the underground lab in Hawkins as you will run around fixing generators as either Nancy Wheeler orSteve Harrington in the survivor roles. Meanwhile, fans will get a kick out of being the Demogorgon as the main killer, who we can only assume their main killing tactic will be eating the heads off of survivors. The devs did not give is a date for when it would be added to the game beyond the fact that it's coming next month. For now, enjoy the trailer and the artwork below, along with the official description.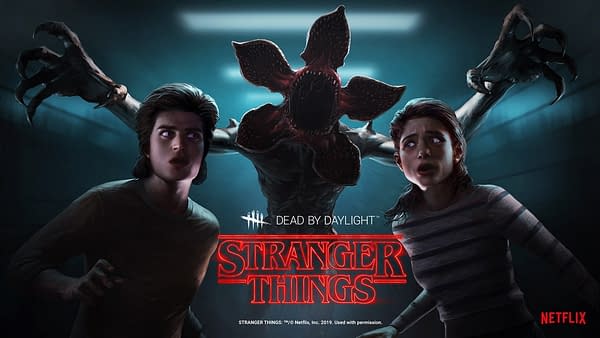 The Stranger Things Chapter comes with a new map, the Underground Complex. Located below the Hawkins National Laboratory, this grim compound caused an inter-dimensional rift that released dozens of creatures before being sealed off.

A surviving Demogorgon is the new untameable Killer. Against it stands not one, but two, new Survivors: Nancy Wheeler, a tough aspiring journalist, and Steve Harrington, a former high school jock with a knack for finding trouble. The Stranger Things Chapter launches in September on PC and consoles and includes two exclusive cosmetic items: Steve's Scuffed Rolled Sleeves and Nancy's Torn Sweatshirt.
Enjoyed this article? Share it!