Street Fighter: Duel Announced, Taking Pre-Registrations Now
Crunchyroll Games has officially announced Street Fighter: Duel is coming to mobile as they are signing people up now.
---
Crunchyroll Games has revealed a brand new mobile game on the way as they will be releasing Street Fighter: Duel for iOS and Android. Working with Capcom, but not being developed or published by them, the game will be an RPG fighter that brings many of the iconic characters you know from the franchise to battle it out in 2D brawls. This isn't your typical fighter, as you'll need to make wise decisions about what moves to use to take down your opponent or withstand their onslaught to win. The game is currently taking pre-registrations on both platforms before it launches sometime in February. You can read more about the game below.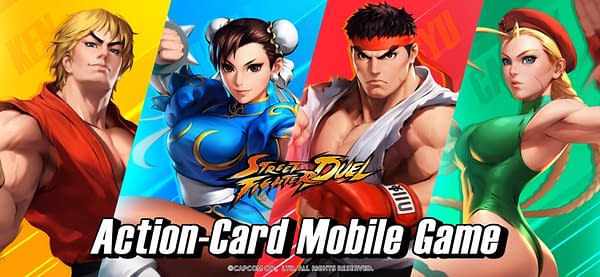 Are you ready to duel it out in the world of Street Fighter? Be prepared to travel the globe to recruit and level up iconic characters from across the Street Fighter series. With a team of champions, players will throw down in beautifully animated 2D brawls on all-new and iconic stages from Street Fighter's past to take down Seth and the Shadaloo's army of mech clones in an extensive story mode. Street Fighter: Duel is a new take on the famed franchise with features and gameplay mechanics for new, returning, and long-time fans:
Collect more than 40 fan-favorite characters, including Ryu, Akuma, Chun-Li, Cammy, and more.
Build a team of three fighters from across the Street Fighter franchise and level them up to unleash devastating combos and signature abilities.
Create your own experience! Strategize with real-time RPG combat or turn on auto-battle to lightning kick your way through encounters with the Shadaloo.
It's not Street Fighter without head-to-head action. Jump on online and use your team of champions to duel it out with other players.
Unlock character skins exclusive to Street Fighter: Duel, putting a fresh spin on beloved Street Fighter characters with new skins dropping all the time.