"Super Kirby Clash" Is Getting A "Tetris 99" Maximus Cup
The next Tetris 99 Maximus Cup has been announced and this time around the theme will center around the new Nintendo game Super Kirby Clash. The seventh cup will kick off at Midnight on September 20th and run until the same time at the end of September 23rd. This one has some special rules, which we have for you below. But the short version is you need to compete in multiplayer clashes and collect at least 100 event point to unlock a new theme in the game. Best of luck to all of you who compete this coming weekend.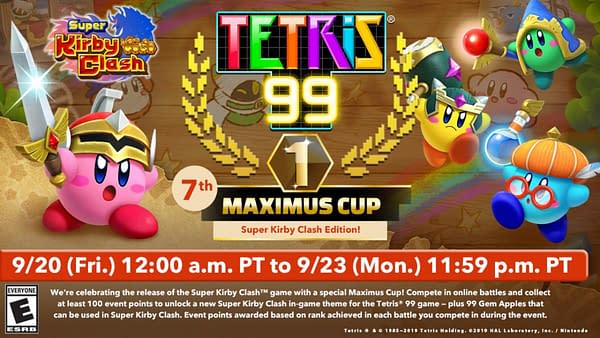 Gem Apples are the in-game currency in Super Kirby Clash, which let players craft and obtain new items. Qualifying players will receive their 99 Gem Apples via a Nintendo eShop code that will be emailed to the address associated with their Nintendo Account within one week after the event ends. In the multiplayer mode of the Super Kirby Clash game, players choose from four unique Roles and join up to three other players* to take down tough bosses. For more information about Super Kirby Clash, visit the game's website.