Switch Accessory Genki Covert Dock Already Succeeds On Kickstarter
Not more than a day went by before a new Nintendo Switch accessory called the Genki Covert Dock already received full funding on Kickstarter. This accessory went mildly viral on social media yesterday as it basically serves as a way to charge the console and display it through HDMI without needing to have the console docked. As you can see and read from some of the info below, it's a converted wall outlet with a couple of USB ports and an HDMI port that eliminate the need for a full dock, which also turns the Switch into a more portable device for those who may wish to use them on the go at other people's homes or at hotels. Within 24 hours, the Kickstarter cleared the original $50k goal and, as of when we write this, is sitting around $400k. It's a pretty ingenious device, but let's see how long it takes for it to get made.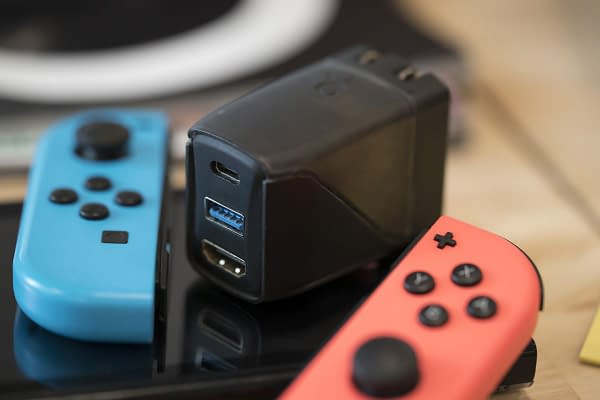 "The Nintendo Switch unquestionably changed the game when it launched, offering the benefits of both a handheld gaming system, and a full-fledged at-home console in one conveniently portable package," said Eddie Tsai, CEO and co-founder of Human Things. "Flash forward to today, and the game is about to change again, as the world's most portable platform is about to finally become fully functional on-the-go. The large, clunky Switch dock is officially a thing of the past—prepare to make every television your playground with the Genki Covert Dock."

The Genki Covert Dock is a full-featured invisible dock hidden inside a super compact and pocketable GaN (Gallium Nitride) charger for USB-C essentials, allowing users to both charge and play their Nintendo Switch consoles on television screens—in full 1080p resolution—without the need to carry the native docking device on-the-go. The product is also fully compatible with other USB-C devices, providing the capability to fast-charge smartphones, tablets, laptops and more with its Power Delivery (PD) 3.0-compliant energy output, as well as broadcast media such as videos and slideshow presentations directly onto second screens via the first-ever built-in HDMI output inside a charger.