Talking "Warhammer: Chaos & Conquest" With Hunted Cow
Earlier this month we saw Warhammer: Chaos & Conquest be released for mobile on iOS and Android, and with it, we got a chance to chat with some of the people behind the game. Today we chat with Chief Creative Officer Louisa Gallie and Chief Operations Officer John Stewart from Hunted Cow about the game and the work that went into making it.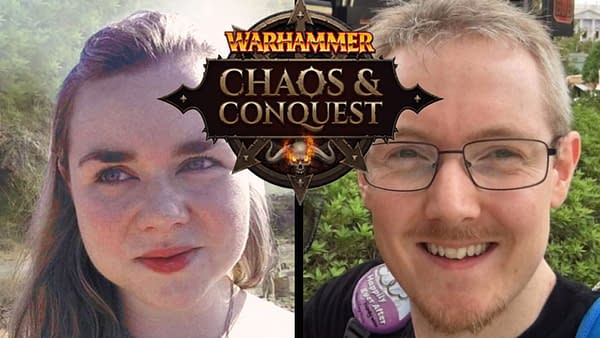 BC: For those unfamiliar with your studio, tell us a little bit about yourselves.
Louisa: We're a smaller development studio based in the north-east of bonny Scotland. We've been around since 2003, originally focusing on browser-based RPGs including the massively successful Fallen Sword, which has seen over four million total signups and has a loyal community of active players to this day. We embarked on an ambitious 3D MMORPG project, Eldevin – which released to great reviews in 2013 – alongside a number of smaller games including our first mobile title, Battle Dungeon: Risen. We followed up in 2016 with a second mobile game, Operation:New Earth, a sci-fi build-and-battle strategy game which launched on iOS and Android and we've since partnered with publishers Tilting Point to roll it out across more platforms such as Steam, Facebook Gameroom, and the Windows store. Operation: New Earth currently has more than half a million sign-ups and counting!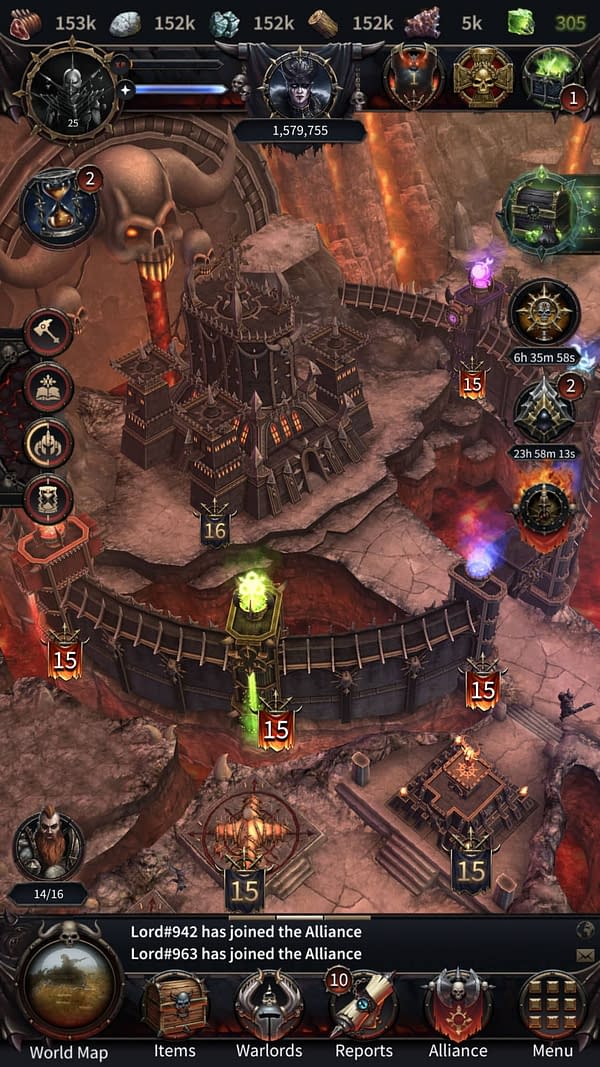 How did the opportunity come about to work with Games Workshop and the Warhammer IP?
Louisa: Our partners and friends at Hexwar Games had previously worked with Games Workshop on The Horus Heresy: Battle of Tallarn, so we reached out through that connection when we realised we had a game concept that would be a great match for the Warhammer IP.
What was the process like in pitching the concept for the mobile app and making it work in their universe?
Louisa: A good number of the team have been dedicated Warhammer fans since we were kids, so we let our collective enthusiasm & knowledge of the lore do a lot of the talking. We had a lot of ideas for how the core gameplay behind Operation: New Earth could work with different Warhammer settings, and we put together a few concepts for how we could build on that core game to deliver a really cool, faithful experience in each case. Sometimes our existing design ideas fit seamlessly into the Warhammer universe; in other cases, the setting gave us new ideas to explore. The Warlord characters and their abilities were something almost entirely new, designed specifically to let us make a big feature out of the most epic Chaos units.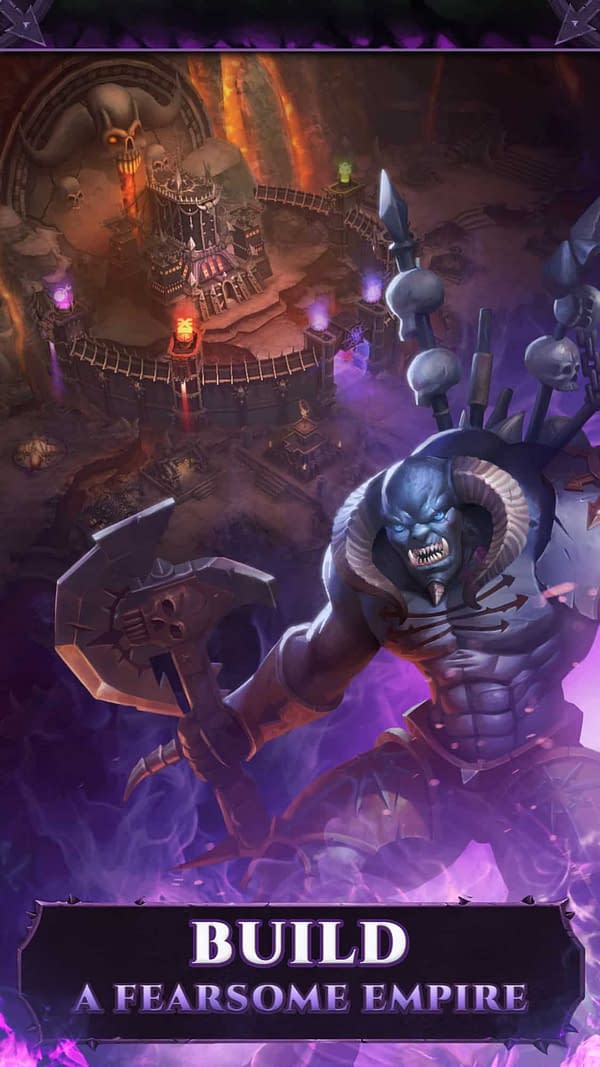 You have a lot of iconic locations in this game. How was it making your own version of it that fans could also recognize?
Louisa: Luckily for us, working within the Old World means there's a lot of reference material on hand! We dug deep into the army books, models, novels and found everything we could in order to determine how the map should be laid out – the terrain, the weather, the local flavor of enemy – what an Empire city looked liked, and of course, what Altdorf looked like! The scale of the game meant it wasn't practical to create an entire city the size of Altdorf at scale, so we choose a few of the most iconic buildings – such as the Imperial Palace – to showcase within the city walls & replicated those as faithfully as we could. This lets us show a leaner, scaled-back model of the capital that is still recognizable.
How did you go about deciding how the battle mechanics would work in this as an app has limited space and doesn't always give the best field of view?
John: When considering the mechanics for the game the first place we started was with the 8th edition army books for each of the factions within the game. As fans of Warhammer for a long time, we were already familiar with key mechanics and such as weapon skill and leadership, so we decided to stay as true to these mechanics as we could. We create a system to convert these stats into attributes within our game and tried to ensure that detailed battle reports would always be shown to the players, allowing them to fully strategize and create interesting and unique warbands of Chaos forces.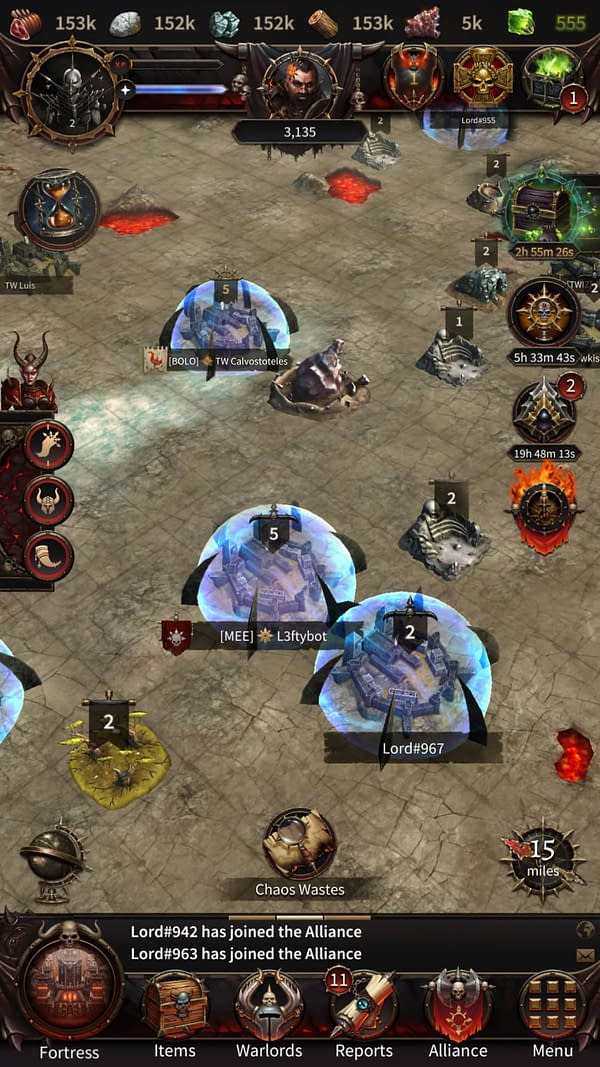 What kind of challenges did you have with the building mechanics on fortresses and making them more than just a side-prop?
John: When designing the game, we felt it would be great to allow the players to build an epic Dread Fortress. We all loved the terrain pieces Games Workshop have released for the various Chaos Fortress, but felt it would be fun to take this one step further. Also, some were created for Age of Sigmar and we needed to take a different approach for the Warhammer Fantasy setting. Our artists created some stunning pieces and concepts which we showed off at Warhammer Fest earlier this year, and I believe we'll be sharing these with the community over the coming months! As you grow in power in the game, having an epic looking Chaos Fortress in the Old World we felt was really cool, so for us really the biggest challenge was ensuring the game ran well on mobile devices. We are really pleased with how it turned out!
How did you go about choosing the warlords in the game and what they'd represent after collecting them?
John: Each of the Warlords in-game were chosen based heavily on the lore from the various army books. As of launch, we've got eleven unique Warlords but later this month we'll be bringing a greater Daemon to the game as an epic Warlord. Which one? Well, you'll need to wait and see! Each Warlord has a unique buff or two they'll bring to your army or march and can turn the tide of battle in your favor. I think the Skullhunter of Khorne is a great example of this; he's called out in the army book as the mightiest of the Skullcrushers of Khorne. Who better to lead your forces into battle?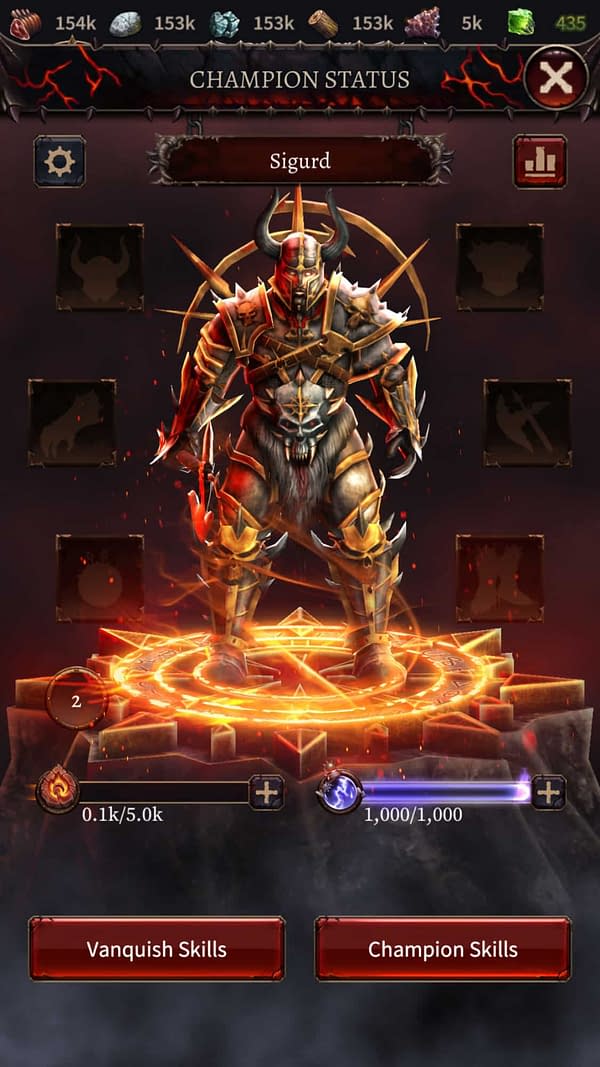 How do alliances work in this game when partnering up with other players?
Louisa: Alliances can reinforce each other by sending troops and resources to any ally in need of support, as well as trading crafting items and speeding up each other's construction and training times. You also share in the spoils of each other's victories, receiving caches of items when your allies defeat enemies. Perhaps most importantly, alliances can combine their armies into gigantic warbands, allowing them to take on the toughest enemies in the game with a force that no solo single player can compete with.
What do you hope players take away from this game, both new players and those familiar with Warhammer?
Louisa: I'd love it if new players take away a newfound love of the Warhammer universe and that existing fans appreciate the detail that we've put into it! We're hoping that all players will enjoy being immersed in the world we've built, and enjoy the chance to play on the side of darkness for a while each day! We're already seeing loads of new alliances appearing and players forming strategies and allegiances with each other, getting right into the role of champions of Chaos, so that's awesome – long may their conquest continue!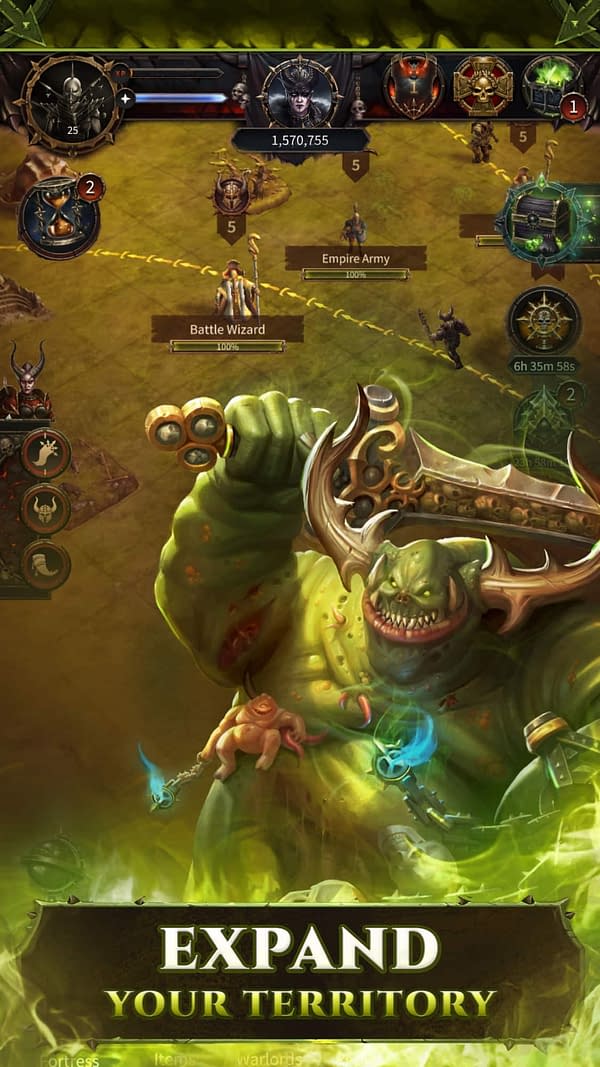 What else are you guys working on as a studio?
Louisa: We're continuing to support our other live games, notably Operation: New Earth which has a thriving community of players across many different platforms. We have several updates planned for the future. We're also building a mobile app – currently in alpha – for Fallen Sword. This has been a much-requested addition to the game over the years & we're excited to finally see it come to life!