Techland decided to put out a brand new trailer this week for God's Trigger, showing off the brutality from their latest top-down shooter. The trailer shows off bits of both the solo and co-op campaigns as you switch between both character or partner up for some frantic switch-off styles between 14 abilities and 36 different weapons. You can check out more details below along with the video, as we wait for the game to be released on April 18th for PC, PS4, and Xbox One.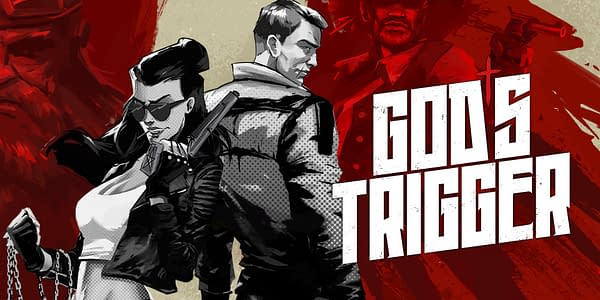 Ever wondered what it's like to have powers from both Heaven and Hell? God's Trigger allows players to go on the rampage as Harry, a fallen angel, or Judy, a demon. Each of these two characters has 7 unique abilities that players can upgrade, customize and combine with others to create their own visceral style of dishing out death. In a game where any hit is fatal, being able to slow down time to dodge bullets or to become invisible will be key to survival.

In Harry and Judy working together the true artistry of carnage is revealed; players can annihilate foes with a huge number of devilishly creative combos, such as setting up a Wall of Fire that will imbue passing bullets with the energy of hell and have them explode on impact, or creating a Dark Vortex to suck enemies together and ripen them for melee brutality. Player death will be simply a passing inconvenience in the cycle of creative destruction.

In the world of God's Trigger, survival depends on the ability to make split-second decisions, and massacre enemies with a variety of guns, melee weapons, special abilities and environmental traps throughout visually spectacular bloodbaths. Prepare for unforgivingly intense, brutal action where just one pull of the trigger is enough to kill the enemy—or you.
Enjoyed this article? Share it!