Posted in: Card Games, Games, Pokémon TCG, Tabletop | Tagged: Dragon Majesty, pokemon, pokemon cards, Pokemon TCG, sun & moon
---
The Cards Of Pokémon TCG: Dragon Majesty Part 15: Blaine
Bleeding Cool's journey through the Sun & Moon era of the Pokémon TCG continues. Now that our spotlight series has moved through the first eight sets of this block (Sun & Moon base, Guardians Rising, Burning Shadows, Crimson Invasion, Ultra Prism, Shining Legends, Forbidden Light, and Celestial Storm), now it's time to look at the next set from this era: Dragon Majesty was released on September 7th, 2018 which is less than a month after Sun & Moon – Celestial Storm. This is the second special set from this era after Shining Legends, which means that it does not have "Sun & Moon" in its title and was released in special branded products rather than booster boxes. Today, with the Full Art Pokémon-GX wrapped, we move to the Full Art Trainer Supporters of the set.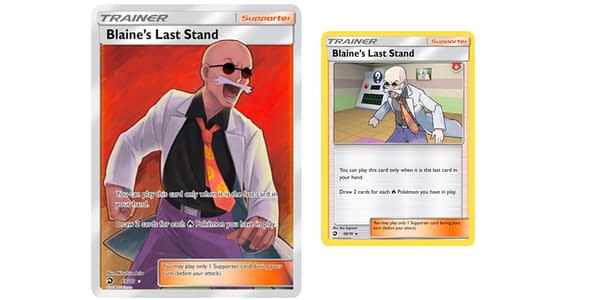 It's Blaine! Blaine is the Leader of Cinnabar Gym on Cinnabar Island in the Kanto region. An intelligent and strategic Trainer, Blaine is known for his use of Fire-type Pokémon. He featured heavily in the vintage Wizards of the Coast-era sets Gym Heroes and Gym Challenge on iconic cards including Blaine's Charizard and Blaine's Arcanine. While Blaine appeared on a Gym Badge promo card during the XY era, the standard and Full Art versions of Blaine's Last Stand pictured above are the first actual Blaine cards that have been translated to English since Gym Challenge. (Blaine's Typhlosion and Blaine's Magcargo were released in Pokémon VS between these sets, but that set strangely remains Japan-exclusive.) Blaine's Last Stand also appears with the exact same art in Hidden Fates, another special set that came out a year after Dragon Majesty.
Stay tuned for the continuing journey through Pokémon TCG: Dragon Majesty. To look back on this series, click the Dragon Majesty tag below. Next time, this journey continues with the main section of this set.
---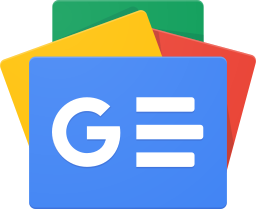 Stay up-to-date and support the site by following Bleeding Cool on Google News today!