Posted in: Games, Review, Technology, Video Games | Tagged: G603, G613, Keyboard, Logitech, Mouse
---
The Joy Of Wireless Gaming! We Review Logitech's G603 & G613
I've always enjoyed checking out what Logitech has to offer with their "G" line, as the company has spent a considerable amount of time and money developing quality gear for gamers while still keeping the Logitech feel that a lot of us have always been used to with whatever PC we used in school or at home. Recently, the company sent us two new additions to the line in the hopes of breaking the stigma with wireless gaming in the G603 Wireless Gaming Mouse and the G613 Wireless Mechanical Gaming Keyboard.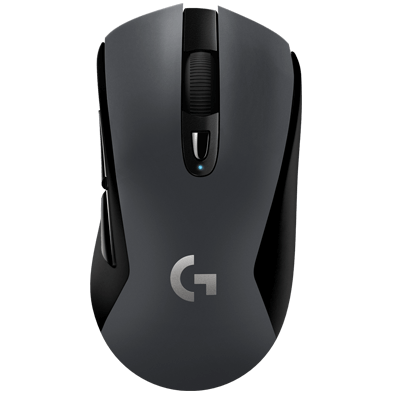 Starting with the mouse, the G603 has a unique feel and movement to it. For starters, it runs off two AA batteries mounted in the base of the mouse, so that's where the weight primarily sits. Also, the batteries are not rechargeable and has no base, so you'll need to change them out over time. That being said, it only uses power when you move and click and remains in a standby setting when you're not using it, so it only uses what's necessary. The system itself runs on Bluetooth tech, with a small USB receiver smaller than your thumbnail to plug into your tower. You can adjust the signal from low (125 Hz) to high (1000 Hz) on the bottom, and you can turn it off completely if you so desire.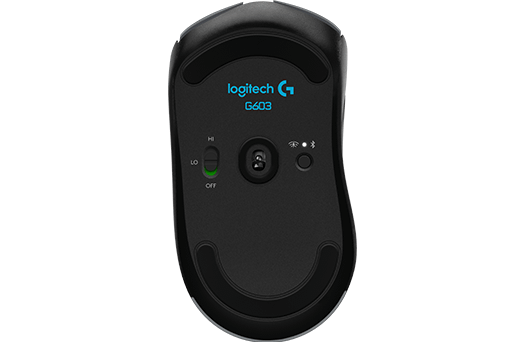 As to the design, the top has a smooth touch on the gray part while the black has a more rugged feel for a better grip. It has a forward and back button option on the left side, but not the right, so sorry to left-handed users who have to order that design specialty. The DPI button int he middle works well and the scroll wheel has a nice feeling to it with small ridges. The design is sound, but it's a bit bulkier than other mice from Logitech. For comparison, one of the gaming mice I own is a G303. The G613 is 1/4 inch longer, 1/8 inch higher and slightly wider at the base.
While it is heavier, it moves just as well as any other mouse on a pad. As to the response time, it's basically flawless. I tested a two-player game on my PC with a friend both using connected mice to carry out the game, and both worked well. Even when we switched off, there was no difference between being hard-wired in and working remotely. That was my greatest fear going into the situation, and the G603 passed the test. Even when I went solo and tried it out with first-person shooters, it still holds up and worked like a wired unit.

Moving onto the keyboard, the G613 looks and feels like a lot of the wireless keyboards I've worked with over the years from Logitech with a few exceptions and additions. First off, like its predecessors, it runs off two AA batteries, but only uses power from them when you hit a key, meaning you can get about five to six years or so out of a pair of batteries. The keys are raised up in the standard fashion for this kind of board, but unlike other Logitech G versions, there are no lights behind the keys, so you're playing in the dark. The board overall feels heavier, due in part to the built-in wrist rest on the bottom. Depending on how you like your keyboards, you'll either be thrilled or annyed to learn that it isn't detachable.

Along the left-hand side are your standard G-Keys that Logitech has been putting into their models for pre-programmed commands. You got a standard volume control along with a gaming button and control over the signal with a Bluetooth and signal button at the top next to it. You also have basic media control buttons on the right above the number pad, nothing too fancy, just the standard you've seen for years. The board does not come with home computing basics like buttons for mail, music, printing and a home button, but they're not really necessary considering what you're buying the board for.
When it comes to functionality, the keys may feel a bit bulky and close together at first, but after you get used to the keys, everything flows like water. As to the connectivity, I experienced no issues of delayed response or inactivity during my games. The keyboard did the job perfectly for whatever commands I set in or key structure I came across. Whatever issues people may have had in the past with wireless units from Logitech are over, this worked well the first time and still works well as I write this review on it. The G613 came with an added bonus in a phone stand, which is okay but it doesn't serve many purposes if I need to charge my phone. It makes for a nice stand if I need to use Skype or Facetime. The G603 and the G613 met all of my expectations and then some, even when I put it through the ringer with games that need precision and instant response. I was shocked that they worked so well, and together. Logitech rolled out these two as compatible with each other and meant to be used side-by-side, and they did a great job of that. But if you only buy one or the other, I can't forsee you running into much disappointment.
---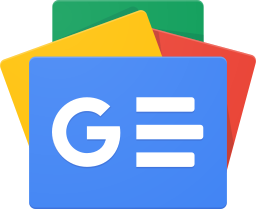 Stay up-to-date and support the site by following Bleeding Cool on Google News today!