After a day worth of people being like "is this for real", we can confirm that yes, the KFC Colonel Sanders dating sim does exist and is on the way. Developed by Psyop, the full name of the game is I Love You, Colonel Sanders! A Finger Lickin' Good Dating Simulator. The game will be released on September 24th for Steam and appears to be a free title. You can read more about it below along with the trailer, as we wait for Arby's to develop a fighting game and Pizza Hut to finally get their MMORPG out of development hell.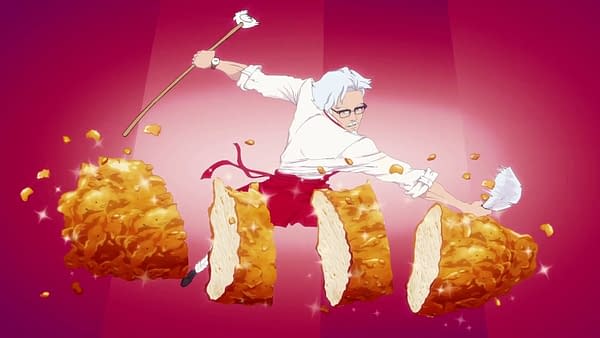 I Love You, Colonel Sanders! A Finger Lickin' Good Dating Simulator follows you, a promising culinary student, as you try to date your classmate, Colonel Sanders. Throughout your journey, you'll be faced with life-changing decisions that will affect your chances of friendship and love. But be careful! Your choices have real consequences with real animated characters' feelings at stake.

Do you have what it takes to survive culinary school? Will Colonel Sanders choose you to be his business partner? Or maybe even so much more? Find out in the most finger lickin' good dating simulator ever created—a game that KFC actually made.

Features:
– 9 lovable characters
– Multiple hours of play-through
– Dateable Colonel Sanders
– A secret ending! Shh!
– Secret recipes! Double Shh!
– Cooking battles
– Battle battles
– Earn a degree from a fictional culinary school
– 11 Herbs and Spices
– Cute miniature food
– Officially created by KFC. No, really
Enjoyed this article? Share it!