This morning, Netmarble and SNK released their latest venture together as The King Of Fighters AllStar launches onto Google Play and the App Store. The game allows you to jump into the fight to become the tournament champion. Players will collect and train their favorite fighters from across the entirety of the franchise. You will have people from the original KOF'94 all the way to KOFXIV. The game will come with Story Mode, Time Attack Mode, Player vs. Player (PvP), and a real-time Tournament Mode, along with 130 collectible fighters. You can read more about it below as you can download the game as we speak.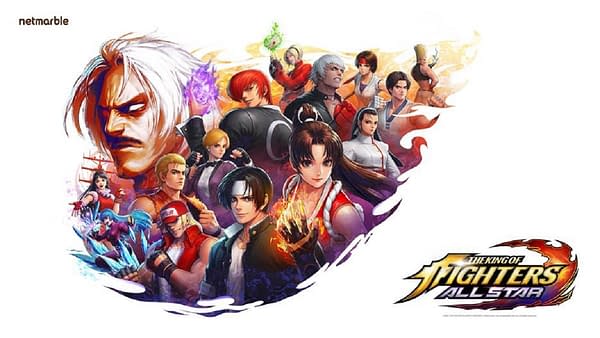 The King Of Fighters AllStar lets players become the hero of the KOF series as they take on the role of an amnesiac person who is saved by a spirited woman named Noah, who then needs rescued herself. After discovering the power to fight as any KOF fighter with their signature moves at their disposal, players enter the King of Fighters tournaments to uncover their memory, become even stronger, and re-experience KOF's fast-paced fighting history.

"High-quality presentation, intense fighting gameplay, and stand-out characters are some of many reasons why The King Of Fighters is popular with players. As KOF fans ourselves, we truly enjoyed working closely with SNK in creating The King Of Fighters AllStar, and the we are eager to see how this games evolves with KOF over time." said Shin Hwa Cho, Executive Producer of Netmarble.

"Netmarble is a fantastic partner to work with as their expertise on developing thrilling mobile games, and their reverence for The King Of Fighters franchise, resulted in a truly unique and fun way to experience KOF," said Yasuyuki Oda, Game division studio producer at SNK. "KOF and fighting game fans can look forward to taking their favorite characters on-the-go while new players can learn more about what makes KOF special with The King Of Fighters AllStar."
Enjoyed this article? Share it!