Digital Extremes has officially released The Old Blood update into Warframe this week, and with it comes a whole reign of terror to deal with. The Old Blood will introduce players to their immortal foe the Kuva Lich, as well as a brand-new Nemesis-like game system. Plus, you get to meet the 42nd Warframe, the insatiable Grendel. We got more details for you here along with the trailer, as you can download the update right now and get in on the game.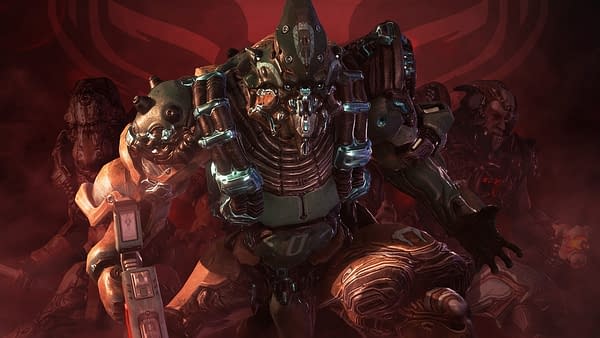 FACE YOUR IMMORTAL NEMESIS: THE KUVA LICH

The much-anticipated debut of the Kuva Lich challenges veteran players with a new Nemesis-like game system. As players encounter and re-encounter their evolving nemesis, the Kuva Lich amasses resources, territory, and allies that will alter their next encounter, whether planetside or, when Empyrean launches, aboard a deep space warship. Use the new Parazon, the hidden blade of the Tenno, to confront and kill the Kuva Lich in its most powerful form, if you dare.

TRAMPLE YOUR PREY WITH THE 42ND WARFRAME

A nightmarish predator to his foes but a compassionate liberator to his allies, Grendel, the 42nd Warframe, is armed with stomach-churning Abilities that consume and regurgitate his enemies. These Abilities empower his party and deal massive damage, and also can send Grendel barreling over the opposition. Grendel can be constructed from parts acquired free in-game or purchased in the Marketplace. Visit The Old Blood news post for more information about Grendel, including a full description of his Abilities.

EXPERIENCE MASSIVE CHANGE IN MELEE CHANGES: PHASE 2

Starting today, Tenno will experience substantial upgrades to the melee combat system with "Melee Changes: Phase 2." This overhaul streamlines and deepens Warframe's lightning fast melee combat. At the same time, it bolsters hundreds of weapons with substantial buffs and re-balanced stats to empower more brutal, devastating close quarter combat. These upgrades also feature a reworked Combo System that makes initiating, chaining and ending combos seamless and intuitive and new Heavy Attacks to lift, juggle and pummel enemies in air.
Enjoyed this article? Share it!