The Op and Steve Jackson Games revealed a brand new Munchkin title that will have Disney fans excited with Munchkin: Disney. As you might expect from the game, this is going to be a Magical Kingdom's worth of challenges, armor, villains, and messing with each other as all the players attempt to get to Level 10 with some of the most recognizable characters of all time. Now if you think you're getting everything under the sun that Disney owns, think again. This is strictly Disney original properties involved, so no Simpsons, Marvel, Star Wars, or it appears even Pixar as they have all been left out. That said, it appears by the information below, you're getting everything movie-wise from Snow White and the Seven Dwarfs all the way to Frozen II. Plus the usual suspects like Mickey Mouse, Donald Duck, Goofy, and more. The game will be available in the Fall of 2020 for $25.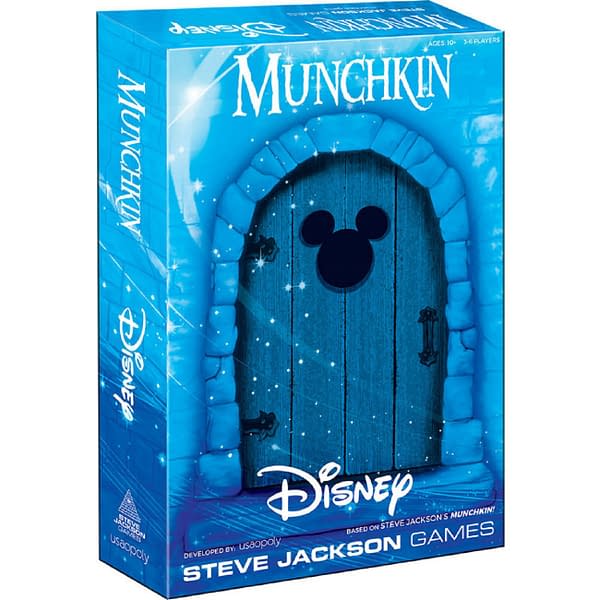 90 years of magic are in the cards for ear-wearing "kidults" and RPG-lovers alike with this latest collaboration by The Op and Steve Jackson Games, which combines the treasure hunting, backstabbing, and leveling-up fun of the best-selling card game Munchkin with timeless Disney characters, phrases, and objects. Kick open a door to encounter Monsters like infamous villains Jafar and Ursula, as well as avoiding Curses such as Forever Asleep and Poison! Obtaining the glorious Treasure cards will fill your hands with Bonus items, abilities, and Allies including Maui's Hook, Magic Carpet, or Elsa, which can assist in combat, help or hinder other players whose objective is also to reach Level 10. With the flick of a wand, special Disney Magic directives benefit the card holders who sing or hum a Disney movie tune. These and other hilarious challenges await players who are ready to relive their favorite Disney moments, while literally bursting into song!
Enjoyed this article? Share it!