The "Smash Bros." Design Of Banjo-Kazooie Came From A Specific Artist
While the move to get Banjo-Kazooie into Super Smash Bros. Ultimate seems like it was a perfect fit that made sense, making them look the part was very different. Rare posted a blog yesterday talking about their time at E3 2019 and all of the happenings they witnessed. For a part of it, they discussed the inclusion of Banjo-Kazooie into the latest entry of the series. Turns out in order to get the character just right, the company turned to one very specific artist to make sure they not only did they look the part in the game but fit into that world for every move and animation.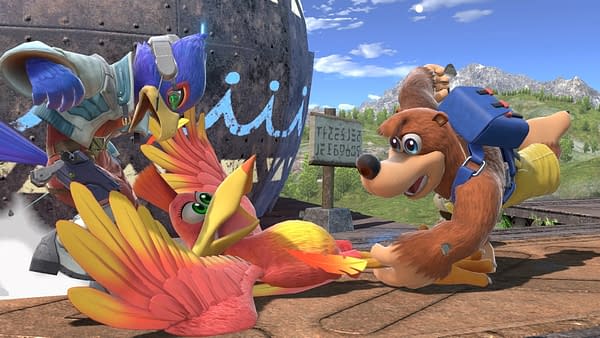 Banjo and Kazooie's inclusion gave us an opportunity for a fantastic partnership with our old friends at Nintendo, and as the bear and bird appeared with Donkey Kong, Diddy Kong and King K. Rool in the reveal trailer it was a joy to see just how warmly the news was received. It's been a tightly kept secret but we've been collaborating closely with the Smash team on this crossover since last year, on everything from movesets to musical choices – and while a core group of folks at Rare worked on this, we have to give a special shout out to our own Paul Cunningham who has been our point man on getting everything about Banjo and Kazooie's appearance just right. Your favourite duo are in very safe (albeit fighty) hands and we honestly cannot wait for everyone to get their game on in the incredible Smash universe.
If you're not familiar with Cunningham, he's been with Rare for years in the good and bad times, working on such titles as Diddy Kong Racing, Jet Force Gemini, and Kameo: Elements of Power. It's pretty cool to know they worked diligently to get them down frame-by-frame into the game. Now if Nintendo would just tell us when they're being added to the game, everything will be awesome.