Theatrhythm Final Bar Line Launches Free Demo Ahead Of Launch
See how musically inclined you are to Final Fantasy games as Theatrhythm Final Bar Line has a free demo out right now.
---
Square Enix has released a free demo for their Final Fantasy musical game Theatrhythm Final Bar Line, giving you a preview before launch. In case you haven't seen this one yet, the game will give you the chance to play out your musical fantasies through one of the most iconic IPs in gaming history, playing music from almost every single title ever released under the Final Fantasy banner. Before the game officially is released on February 16th, the company has released a free demo for Nintendo Switch and PlayStation, allowing you to play 30 different tracks from the game, and have your progress carry over to the main game if you decide to buy it. You can read more about the demo below.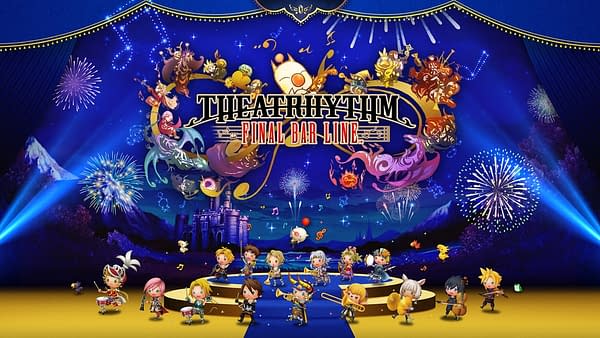 "The free demo was announced through a special livestream hosted on the official Square Enix Twitch channel earlier this week and featured Ichiro Hazama, the game's Producer, along with Masanobu Suzui, Series Director, and Tsukasa Okayasu, Director, from indieszero Co., Ltd. In the free demo, players can test out the game's single-player content and experience various popular songs, including:
"Opening – Bombing Mission" from Final Fantasy VII
"Blinded By Light" from Final Fantasy XIII
"Torn from the Heavens" from Final Fantasy XIV
"APOCALYPSIS NOCTIS (Uncovered Trailer)" from Final Fantasy XV
Plus much more!"
"Featuring 385 Final Fantasy tracks in the base game, the Digital Deluxe and Premium Digital Deluxe Editions include music from various Square Enix series, such as NieR, The SaGa Series, Live A Live, Octopath Traveler, and more. With three game modes to enjoy and over 100 Final Fantasy characters, players can form their dream music battle party, and by using both local and online multiplayer play modes, with additional DLC to explore following the game's launch, players have plenty to look forward to as they embark on a colorful and musical journey."