Throwing Discs Like It's '94: We Review 'Windjammers'
[rwp-review-recap id="0"]
If you're not familiar with Windjammers, that's totally reasonable. The game was released in arcades in 1994 and was usually shoved off into the section with sports titles and never really sat by titles like Street Fighter II or Mortal Kombat. The game eventually made its way to console, but only for the NeoGeo so unless your parents were loaded or you were the one kid who got this instead of a SNES or Genesis, you probably didn't play it.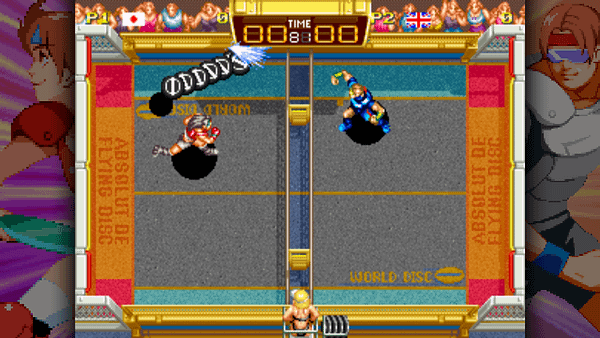 But to a small section of the gaming audience, this is the pinnacle of futuristic sports gaming, and it even serves as an inspiration to Disc Jam as they basically used the same format with a top-to-bottom perspective. Out of the blue, DotEmu managed to secured the rights from now defunct Data East and developed a brand new port of the game for PlayStation 4 and PS Vita, which we're going to review for you today. The game itself is pretty basic as far as sports games go and once you get the hang of it, you can become a Windjammers master in no time!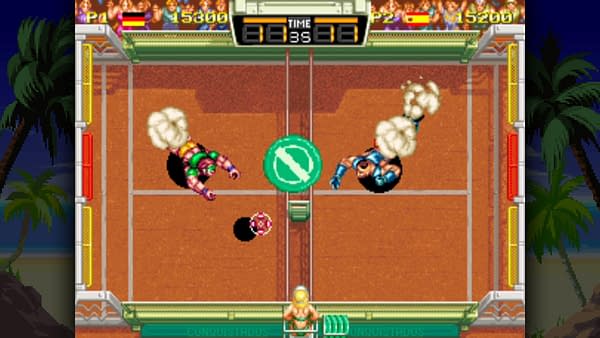 The game puts two opponents across from each other on a hybrid tennis court. You're playing what is essentially an amped-up version of Frisbee where you will pass the disc back and forth between each other, attempting to hit the wall or behind your opponent or the floor if they drop it in order to score points. When holding the disc you cannot move around and must fire from where you stand, but you can change the path of the disc by bouncing it off the walls and using various techniques to send it back to your opponent. As you throw the disc back and forth it gains speed, meaning your reaction time gets shortened by every passing throw. This is done so that the game will eventually become too fast for someone and a goal will be scored. You can choose one of six different characters to enter into the competition, all of them have various power and speed ratings that will give you an edge in one of those areas, or be balanced out so you have equal footing in both. If you go for speed you can get around the board faster and build speed faster, while power players move a little slower but have a wicked arm. The single player campaign is just you versus the CPU until you beat everyone, but you can also play variations including bowling and "fetch" with a dog on the beach.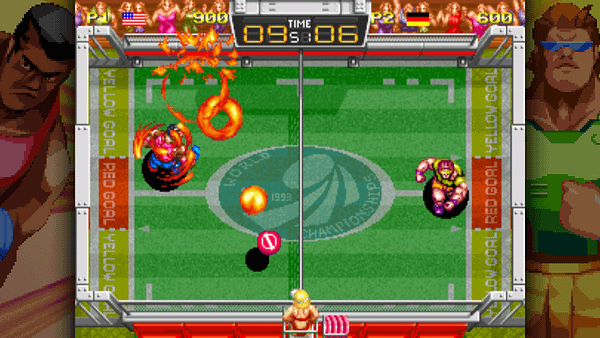 The latest addition to this version of the game is online multiplayer. Sure, you can play one-on-one with a friend or play teams locally, but the game never gave you the ability to test out your skills online until now. Matchups are quick and easy to accomplish, matches tend to go fast and right now there's no shortage of opponents to play against. And that really is the bonus to all of this—no longer waiting for your friends to be free after school, now you can just jam with whoever may be available.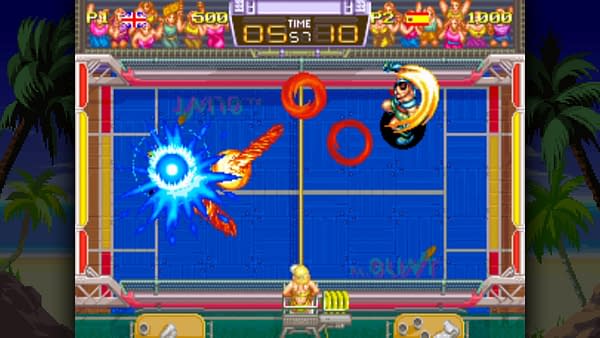 Windjammers is a great retro title that deserved a second wind, especially after Giant Bomb basically helped revitalize interest in it a few years ago. It may be a tri back in time for people of a certain age group, but newer players will know the heated competition we felt playing it in the arcade, including the stunning crush of defeat and the confidence gained when winning your match.
[rwp-review-ratings id="0"]
[rwp-review-form id="0"]