Tilting Point Reveals New Mobile Title: M&M's Adventure
Tilting Point revealed a brand new mobile title today as they've partnered with Mars Inc. to make M&M's Adventure for iOS and Android. It may say "adventure" in the title, but that's actually only a small piece of the game when this is really more of a puzzler. You'll solve various types of color-coordinated challenges that feature the different colors and flavors of the candy brand as you make your way through several levels featuring the main six characters they've created as part of the brand over the past couple of decades. There's no link set for iOS yet, but you can pre-register for Android devices as we speak. The game doesn't have a release date yet, either. Only that it's expected to be released sometime in Spring 2022. You can read more about it below and check out the trailer as we wait to see more come out about the game.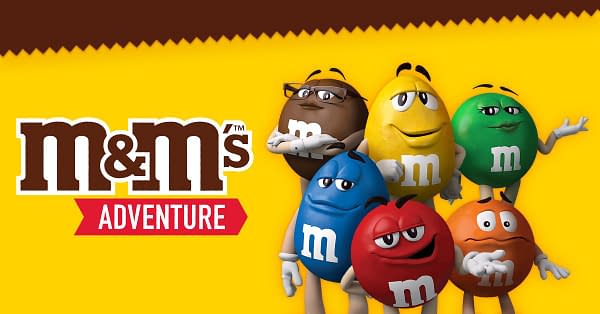 Blast M&M's and create amazing combinations to rock through the levels. Solve the puzzles and discover the world together with the funny and unique M&M's characters! M&M's Adventure is the first mobile game to feature the world-famous M&M'S characters and will take players on an adventure around the world traveling to incredible locations such as New York and Paris. M&M's Adventure includes more than 1000 levels, and features multiple types of in-game events, including competitive leaderboards and month-long seasonal events, during which players will play unique levels and collect new characters. M&M's Adventure is developed by Gear Inc. who are experts in casual game development with over 20 released games to date.

"Players will get to experience the iconic M&M's brand through a mobile game for the first time, which feels exciting, fresh and totally natural at the same time," said Samir Agili, president and Co-CEO of Tilting Point. "We look forward to delivering a new way to experience the M&M's brand to fans around the world."