Tony DiTerlizzi To Be Artist Guest Of Honor At Gen Con
by Christopher Helton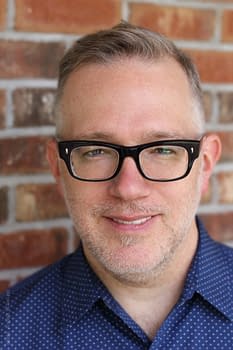 Gen Con is coming. In just over a week I will be in scenic Indianapolis, Indiana, soaking in the local charm, heavy carbohydrate foods (always helpful to the geeky waistband) and, of course, The Best Four Days In Gaming. One of the high points of that will be getting to see artist Tony DiTerlizzi. This year's Artist Guest of Honor at Gen Con, DiTerlizzi is probably best known to gamers as the artist who guided the look and feel of TSR's AD&D 2nd edition setting Planescape.
Last month, Dark Horse Books and Kitchen Sink Books put out Realms: The Roleplaying Game Art of Tony DiTerlizzi, an art book collecting some of DiTerlizzi's work for Planescape and Magic The Gathering art, along with photographs from the era and new, original paintings. The book also features a Christopher Paolini (writer of the novel Eragon) introduction and commentary and appreciations of DiTerlizzi's art from Guillermo del Toro, Brom, Jane Yolen, Holly Black, Zeb Cook, Jeff Easley, and Donato Giancola.

I was never fortunate to play Planescape back in the day, my gaming tastes had moved on from D&D during the second edition era into more esoteric realms of play, but even so I always found DiTerlizzi's art in the books to be incredible. Reading friends' Planescape books one thing was obvious to me: without DiTerlizzi's art creating the tone for the writing and game design, the setting would not been half as evocative as it was.
When you're at Gen Con next week, be sure to track DiTerlizzi down and let him know the appreciation you have for his art setting the tone for some much of the D&D experience for you.
Christopher Helton is a blogger, podcaster and tabletop RPG publisher who talks about games and other forms of geekery at the long-running Dorkland! blog. He is also the co-publisher at the ENnie Award winning Battlefield Press, Inc. You can find him on Twitter at @dorkland and on G+ at https://plus.google.com/+ChristopherHelton/ where he will talk your ear off about gaming and comics. He also has a crowdfunding page to help offset costs of this summer's Gen Con coverage.