Traffic Cop VR: The Perfect Police Training Tool?
This week a new collaboration between Brian Bobik and Waden Kane Game Studios was announced as the two entities will be bringing the 1950s together with VR in a new game called Traffic Cop VR. The game will make you a beat cop who has been assigned traffic duty, and it's your job to keep the peace while also making sure people get through intersections properly. You get a slingshot and a ray gun as you deal with speedsters, road rage, and the occasional item being thrown at your head. Below are a trailer and some of the key features of the game, which doesn't have a formal release date yet.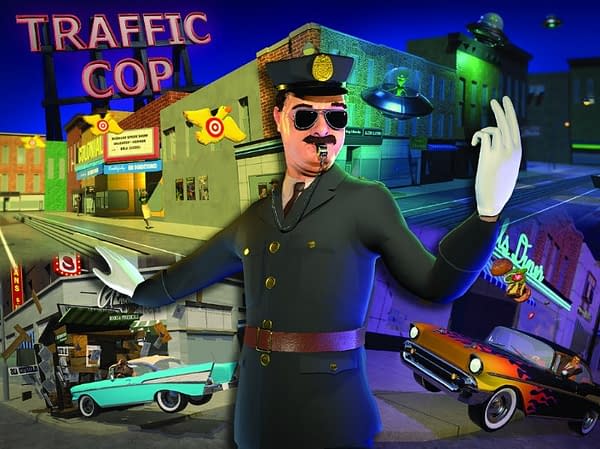 Direct traffic in the city's busiest intersection efficiently to keep cars moving.
Take strategic action when cars move at different speeds to avoid collisions and minimize delays.
Survive unpredictable drivers as they ignore the rules of the road and blow through intersections.
Duck and dodge oncoming food thrown by raging roadsters or catch it and throw it back!
Unlock mini-games and protect the citizens from an alien attack, giant bird infestation or uniform staining hooligans Oh the humanity!
Wield your trusty ray gun, or take aim with the slingshot.