Next week, fans of the CGI-animated show ReBoot will get to relive the glory days of the show on Twitch, as the social streaming service has partnered with Shout! Factory to air a marathon of the original series starting March 28th. One of the last truly awesome Saturday morning shows before the morning blocks started to get phased out by networks, the series hasn't been drifting in random syndication until Shout! got the rights back in 2011 to release all four seasons on DVD. Now you can watch all 48 episodes in a 24-hour marathon on Twitch starting at 3pm PT/6pm ET. Here are the official description and trailer from Shout!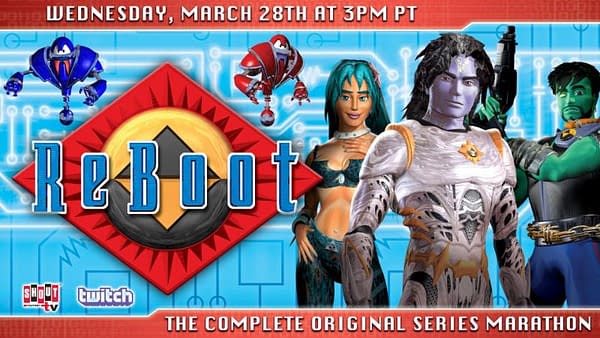 Welcome to Mainframe. Home to Guardian Bob, formatted to mend and defend. Join the fast-paced action and adventure as Bob and his friends – Dot, her brother Enzo and his trusty dog Frisket – fend off attacks from the superviruses known as Megabyte and Hexadecimal in their relentless pursuit of chaos and the destruction of Mainframe. The show's unique setting inside a computer allows the characters and storylines to mine the references to computers and video games for all they're worth, giving the show its humorous edge. The innovative animation, insider humor and high octane action combine to give viewers a lot of binary bang for their buck.
Enjoyed this article? Share it!