Ubisoft Adds The Botanical Garden DLC To "Anno 1800"
Ubisoft just released a brand new DLC pack for Anno 1800, where you get to build the greatest gardens people have ever seen two centuries ago. The Botanical Garden update allows you to take portions of the city and transform them into your own version of Central Park. A cultural center of lush greenery for people to enjoy themselves, as well as be able to beautify the city you have cultivated. Check out all the pics as well as the trailer below to see what you can do!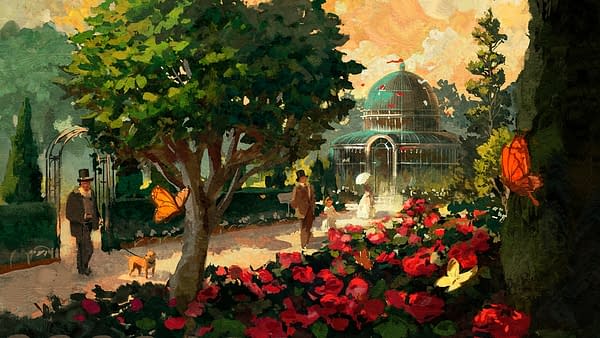 Botanica brings an additional cultural building project to the world of Anno 1800. The botanical garden is a feast for players' eyes, and they'll enjoy inviting green avenues and flowery compositions with wondrous and colorful exotic plants from far away in their thriving metropolises. Botanica includes various sets of flora from around the world that can be used in the decorative garden modules. Additional ornaments have also been added to the game for Anno players who want to live out their inner expressionist.

In a nutshell, Botanica comes with over 21 unique botanical modules and one glasshouse module. In addition, 11 new ornaments such as flower beds and topiaries have been added, which are usable with all cultural buildings. New sets of plants have been added for the botanical garden with a total of 59 plants items. Finally, players can construct a new Musical Pavilion and enjoy beloved tracks from previous Anno games inside their city. In order to play Botanica, players must reach the 4th Civilization Level.