Ubisoft Has Recreated Notre-Dame De Paris In A VR Tour
Ubisoft has debuted a virtual reality tour of the World Heritage monument of Notre-Dame de Paris this week at the UNESCO headquarters in Paris. The preview happened during their "Journées Européennes du Patrimoine" (European Heritage Days) on September 21st and 22nd. The VR tour gave people a chance to check out the cathedral before it had burned down earlier this year. We have more info below from Ubisoft on the display, no word yet on if the VR tour will become available to the public.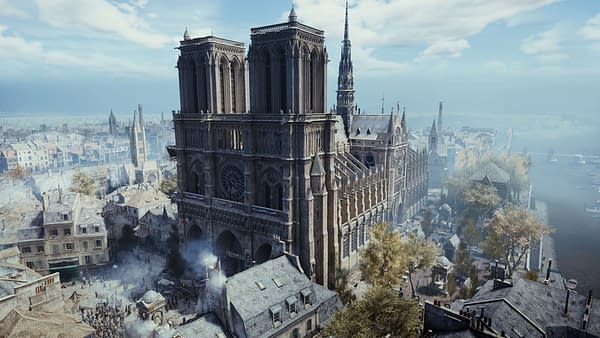 Visitors had the opportunity to experience this architectural jewel through the exploration of ten different scenes: from the nave to the transept and the choir in the interior of the cathedral. The tour then allows you to viewpoints that were inaccessible to the public, whether from the rooftop or from a hot-air balloon flying above the iconic site.

This VR experience is based on Ubisoft's recreation of the Notre-Dame in the 2014 video game, Assassin's Creed Unity, which is set in Paris during the French Revolution. This demonstration at UNESCO's Heritage Days was only the beginning as Ubisoft aims to provide experiences like these accessible to more people in the future.

"For the last 30 years, Ubisoft has been creating immersive worlds in which it is possible for players to entertain themselves or— in the case of the Assassin's Creed series — to discover and appreciate a part of world heritage," said Ubisoft's SVP of New Business Deborah Papiernik. "We are proud to show the excellent work our teams have carried out in the creation of Assassin's Creed Unity, and to allow the public to visit the cathedral thanks to this virtual reality experience."