Groot and Rocket Are the Latest Avengers: Infinity War Hot Toys Announced
Groot and Rocket are now the third and fourth Hot Toys Avengers: Infinity War figures announced. They follow Iron Man and Thor that were revealed this past weekend. Hot Toys' Infinity Gauntlet was revealed, as well.
Groot gets his own separate release featuring multiple interchangeable hands and weapons, along with his gaming machine! The way to go here though is for the Groot and Rocket two-pack. That one comes with everything in the standalone Groot release, but you get Rocket with interchangeable parts and weapons as well. Preorders should be live soon, and the figures should ship late 2018/early 2019.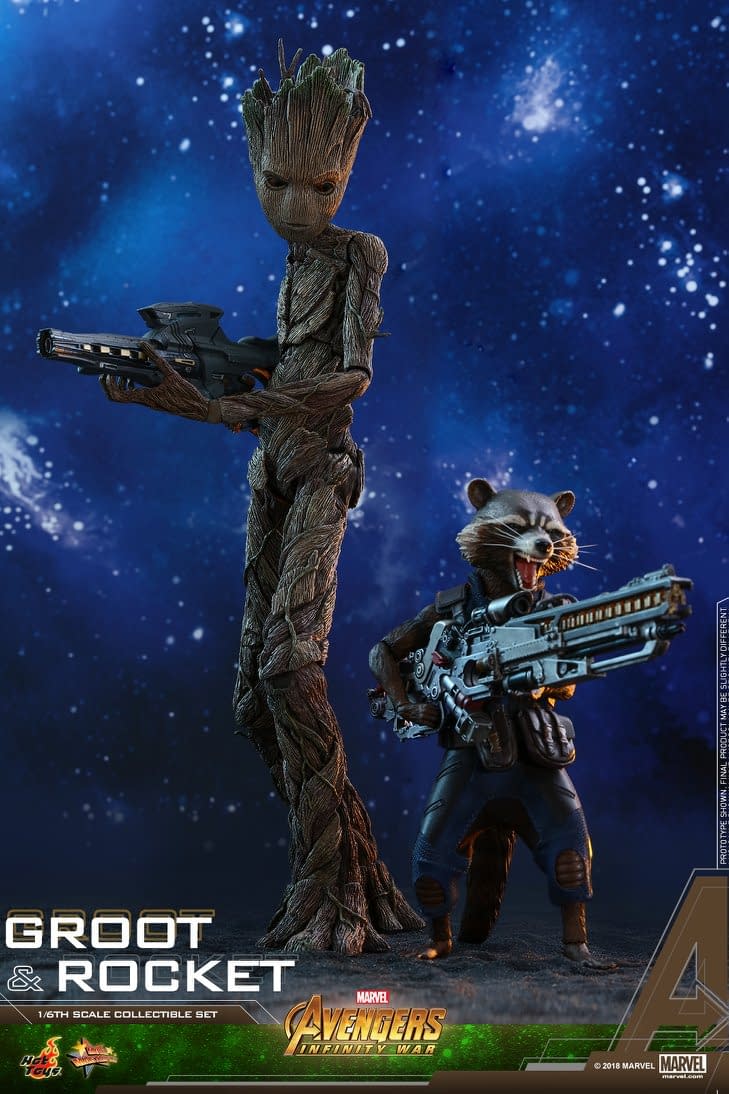 Avengers: Infinity War Groot 1/6th scale Collectible Figure

Arriving shortly, Marvel fans are all excited about the forthcoming blockbuster Avengers: Infinity War landing in cinemas this April and it seems like Groot has grew up a little more from the last time we met him. Under the care of the Guardians, he struggles to find the way to prove himself a dependable hero. As fans everywhere are counting down to the release of the movie, Hot Toys is extremely excited to introduce the latest version of 1/6th scale Groot collectible figure!

The extraordinarily movie-accurate Groot is expertly crafted based on his appearance in the film, featuring highly detailed head sculpt and two interchangeable face sculpts with stunning likeness, impressive paint application on his body reflecting his distinctive appearance, blaster rifle, handheld game console and a movie-themed figure stand with movie logo.

Upgrade your Marvel collection with the newest 1/6th scale Groot Collectible Figure home from the next massive battle yet in the upcoming blockbuster!

Specifications:
– Product Code: MMS475
– Product Name: Groot
– Height: Approximately 29.5 cm tall
– Points of Articulations: 15
– Special Features: Two newly developed interchangeable face sculpt with movie-accurate facial expression and tree texture, A blaster rifle, A handheld game console
– Figure Sculpted by Joseph Tsang
– Figure Painted by Lok Ho

The 1/6th scale Groot Collectible Figure specially features:

– Authentic and detailed likeness of Groot in Marvel Studios' Avengers: Infinity War
– Two (2) newly developed interchangeable face sculpt with movie-accurate facial expression and tree texture
– Approximately 29.5 cm tall
– Newly developed unique body with over 15 points of articulations
– Five (5) pieces of interchangeable hands including:
– One (1) pair of relaxed hands
– One (1) partially clenched left hand
– One (1) weapon holding right hand
– One (1) attacking right hand
– Each piece of face sculpt is specially hand-painted

Weapon:
– One (1) blaster rifle

Accessories:
– One (1) handheld game console
– Specially designed movie-themed figure stand and movie logo

————————————————————————————-

Avengers: Infinity War – Groot & Rocket 1/6th scale Collectible Set

Get ready for the return of Rocket and Groot in the upcoming epic release Avengers: Infinity War, which will unveil a first look of the Guardians teaming up with the Avengers! Fans are eagerly anticipating on how Groot continues to prove himself as a dependable hero while battling alongside with his comrade Rocket!

Today, Hot Toys is delighted to present the 1/6th scale collectible set of Groot and Rocket from Marvel's forthcoming film Avengers: Infinity War.

The newly developed Groot is expertly crafted based on his appearance in the film, featuring a finely sculpted head with 2 interchangeable face sculpts, impressive paint application on his body reflecting his distinctive appearance, blaster rifle, handheld game console and a movie-themed figure stand with movie logo.

The movie- accurate Rocket is specially crafted based on his unique physique in the film, it features a newly painted head portraying his roaring expression with remarkable likeness, specially tailored combat suit, interchangeable hands and feet, all-new highly detailed blaster rifle, and a specially designed movie-themed figure with movie logo.

Don't pass up on a chance to grab the Marvel's galactic inseparable duo Rocket and Groot collectible set to expand on your Avengers: Infinity War collection!

Specifications:
– Product CodeMMS476
– Product NameGroot & Rocket
– HeightApprox. 29.5 cm tall. Rocket: Approx. 16 cm tall
– Points of Articulations0
– Special FeaturesGroot with two newly developed interchangeable face sculpts with movie-accurate facial expression and tree texture, an attacking right hand, a blaster rifle for Rocket

The 1/6th scale Groot Collectible Figure specially features:

– Authentic and detailed likeness of Groot in Marvel Studios' Avengers: Infinity War
– Two (2) newly developed interchangeable face sculpts with movie-accurate facial expression and tree texture
– Approximately 29.5 cm tall
– Newly developed unique body with over 15 points of articulations
– Five (5) pieces of interchangeable hands including:
– One (1) pair of relaxed hands
– One (1) partially clenched left hand
– One (1) weapon holding right hand
– One (1) attacking right hand
– Each piece of face sculpt is specially hand-painted

Weapon:
– One (1) blaster rifle

Accessories:
– One (1) handheld game console
– Specially designed movie-themed figure stand movie logo

Artists:
– Figure Sculpted by Joseph Tsang
– Figure Painted by Lok Ho

The 1/6th scale Rocket Collectible Figure specially features:

– Newly painted roaring expression head sculpt with authentic and detailed likeness of Rocket from Avengers: Infinity War
– Movie-accurate facial expression and detail fur texture
– Approximately 16 cm tall
– Specialized body with over 17 points of articulations
– Three (3) pairs of interchangeable hands including:
– One (1) pair of relaxed hands
– One (1) pair of fists
– One (1) pair of hands for holding blaster rifle
– Two (2) pairs of interchangeable feet including:
– One (1) pair of feet for standing
– One (1) pair of feet in a flying stance
– Each piece of head sculpt is specially hand- painted

Costume:
– One (1) navy blue space suit
– One (1) utility belt with pouches
– One (1) gun strap (wearable on the back)

Weapon:
– One (1) blaster rifle

Accessory:
– Specially designed movie-themed figure stand movie logo