Alexandria Ocasio-Cortez Crashes Twitch Stream, Shares Fondness for Nintendo 64
Alexandria Ocasio-Cortez continues to embrace her youthful vigor in the political spectrum. Not only does she dance, she is also a proud gamer.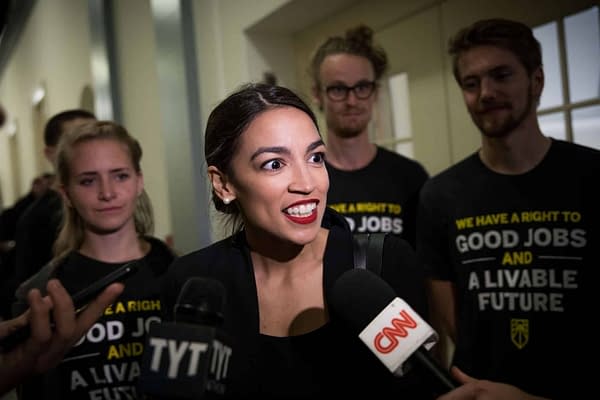 After Hollywood conglomerate Aaron Sorkin told freshmen-elected Democrats to "stop acting like young people," the Democrat US Representative for New York's 14th congressional district spurned the advice and shared her geek cred with potential voters jumping on a Donkey Kong Twitch livestream.
The channel's host and YouTuber, Harry Brewis (aka: H.Bomberguy), created the livestream to raise money for Mermaids, a charity that provides support for gender diverse and transgender children. He created the livestream in response to Graham Linehan, according to CNET, who became outspoken on transgender issues. The creator of Black Books and The IT Crowd tweeted:
Folks, In the same way that you don't tell anorexic kids they need liposuction, you don't tell vulnerable kids with feelings of dysphoria that they need surgery and drugs. You certainly don't tell them fairy stories about being "born in the wrong body."
Brewis chose Mermaids because Linehan began a campaign against the charity.
Ocasio-Cortez heard about the livestream and posted from her Twitter account.
After providing the link and referencing Mermaids, she tweeted:
Lastly, we wouldn't need to talk about bathrooms at all if we acted like adults, washed our hands + minded our own business instead of trying to clock others. Going by track record, I'd feel safer in a bathroom w/ a trans woman than a powerful male executive any day of the week.
Sorkin called the transgender bathroom issue a "Republican talking point they're trying to distract you with."
AOC followed up by calling into the livestream.
https://twitter.com/AlexThomasDC/status/1087135160934506496
She shared her fond memories with her favorite console, the Nintendo 64, playing games like Super Mario 64 and Pokemon Snap.
The response on Twitter was positive.
https://twitter.com/RaygunBrown/status/1087132121775333376
https://twitter.com/loudmouthjulia/status/1087133739891781632
AOC's wears her gaming badge with pride on one of the most underrated consoles of the 90s in a time when Sony became king.
Someone who can dance and play video games sounds like someone a lot more in touch with what the American public than someone telling young idealistic people to grow up.