This isn't the first time I've heard this rumour.
God of War went there and back with its focus on Greek Mythology, pushing Kratos into most of the major players you could in that religion, and some might even argue, over stayed its welcome in the setting.
Well, it seems, for the next God of War, a lot of things could be changing. In fact, perhaps we could be going to the Norse mythology, and changing perspective entirely. This all started when serial leaker Shinobi tweeted this out:
…to the halls of Valhalla.

My boy.#GodofWar4

— shinobi602 (@shinobi602) April 4, 2016
This was then explored further by NerdLeaks, who found a bunch of concept art on ex-Sony Santa Monica artist Finnian MacManus. As noted by Destructoid though, images are disappearing from the site, NerdLeaks and other places. However, Gematsu found people who really dug deep and found a private folder with descriptions like this:
A Kratos-looking character with a beard
A Norse mythology setting
Alfheim and "Land of the Fairies" are a few of the image's names
The Kratos-looking character will be in prison at one point
The Kratos-looking character has an axe that he can use to cut vines and create bridges/walkways
The surrounding environment could interact with the character
And here are a few of the images that were found that look pretty Norse-y.
Now, the most telling of all these, is this picture. Can you perhaps see Kratos like tattoos running over this character's right shoulder? because I sure can.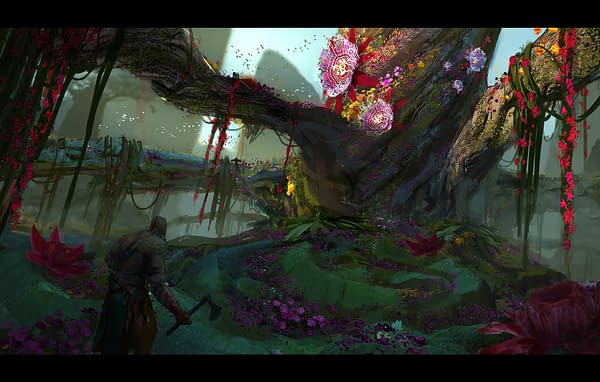 None of this is confirmed, of course, but this sure is a lot of evidence. And with this lining up with whispers I'd heard previously, I put a fair amount of stock into this.
Enjoyed this article? Share it!