Sweet Release! Halo 5: Guardians, WWE 2K16, Divinity Original Sin, Darksiders II Deathinitive, Galak-Z
By Jared Cornelius
Welcome back to Sweet Release! Bleeding Cool's look at the new games hitting store shelves and digital platforms. Before we dive into the games this week, I'd like to use this as a forum to thank our now former EIC, Hannah Means Shannon. I met Hannah almost two years ago in my local comic shop, Conquest Comics, in Bayville New Jersey. Hannah was still writing her "Live From The Comic Shop" column and was feverishly typing away on one of Conquest's fold out tables in front of the statues. For quite some time Hannah was as much a fixture of the shop as the new comics on Wednesday, with her laptop and stack of new books. She would kindly chat with the customers and banter with the owners about a variety of topics including growing Bleeding Cool into a bigger and more robust site. As the website grew so did the need for content and I got my first shot at writing on the internet. I remember her as being studious in her research, and driven to make Bleeding Cool the place to go for not only the best in comic's gossip and news but expanding it into more content like toys and games. I was already a big fan of Bleeding Cool before meeting her but after I truly drank the Cool-Aid if you'll pardon the pun. Hannah let me work for the site and the magazine despite the fact I hadn't been writing for many years prior, and along the way she encouraged me to explore different topics, gave me words of advice, and small voice in a medium I love. Because of Hannah I've had a ton of cool experiences talking to creators and artists, I've gotten to live out a lifelong dream of seeing my words in print in Bleeding Cool Magazine. I'm sad to see Hannah leave our little internet family, but I know she's off to conquer a whole new world. So this is for you Hannah, you gave a guy from the Jersey coast a chance and made some real life dreams come true, you are many things a scholar, a teacher, a friend, and you'll be missed. Thank you for all you did and the best of wishes in your newest endeavours.
Stay Gold,
Jared Cornelius Microsoft's had a long strange road with the Halo series. First conceived as a real time strategy game, it blew up expectations on the original Xbox and created a huge money maker for Microsoft and its original developer Bungie. The console's first big exclusive led to a string of high profile sequels, books, a web series, action figures, and almost every other piece of merchandise under the sun. On top of that was the departure of Bungie for a ten year stint with Activision and Microsoft's in-house developer 343 Industries taking over the reins of the series. 343 gave the Master Chief his swan song on the Xbox 360 to a fair amount of praise but the series had a less than stellar coming out party on the Xbox One with Halo: The Master Chief Collection last year. Now 343 Industries are looking to rectify that poor launch and absolve the franchise with Halo 5: Guardians. The first person shooter is looking to add and expand on an already robust shooter, adding new modes, characters, combat, and weapons. In this instalment the Master Chief has gone rogue and a brand new Spartan team is tasked with seeking him out and bringing him in dead or alive.
Microsoft seem to be on the Destiny path, with all the co-op modes needing online functionality to work, but is continuing it's up to four player online co-op multiplayer. Speaking of multiplayer, Halo 5 also adds micro-transactions into your $60 game in the in the form of something called REQ or Requisition Packs. Adding three tiers of bronze, silver, and gold, with the packs containing weapons, gear, and items. There's also an energy system involved that limits what items and gear you can deploy in battle. The development team has been defending the addition all week and I'm not thrilled about more micro-transactions in $60 products so be aware if Halo multiplayer is your thing. I will say the coolest addition to the series sounds like the Warzone that pits up to twenty four players in battle across a battlefield with different enemy types and objectives happening around you. It sounds a bit like a less restrictive horde mode which is a good thing. Halo 5: Guardians, releases Tuesday in a variety of editions exclusively on the Xbox One.
I'm afraid I've got some bad news, it's time for another iteration of one of 2K's sports franchises. This week it's time for their second foray into professional wrestling with WWE 2K16. The 3rd person action grappler doesn't change much from last years first try and frankly it doesn't seem to have strayed far from the series roots on the original PlayStation's WWF Smackdown from 2000! Following last year's transitional title to both a new publisher and a new generation 2K16 is making incremental changes to the gameplay with the bullet point this year being the largest roster ever with over 120 characters. Other than that they've continued their Showcase Mode with classic matches from the company's history, and tweaked features in the Create-a-player, refined the gameplay and are touting the inclusion of a three man commentary team. I've not heard great things about this version and it still seems to be suffering from some of last year's problems. In addition the game has made some waves by not including four of its current popular female performers leaving a glaring hole in the 120 character roster. I said it last year, if you have even a passing fancy in wrestling the WWE Network is actually pretty great for $10 a month, get that instead. WWE 2K16 released Tuesday on PlayStation 3, PlayStation 4, Xbox One, Xbox 360, and PC.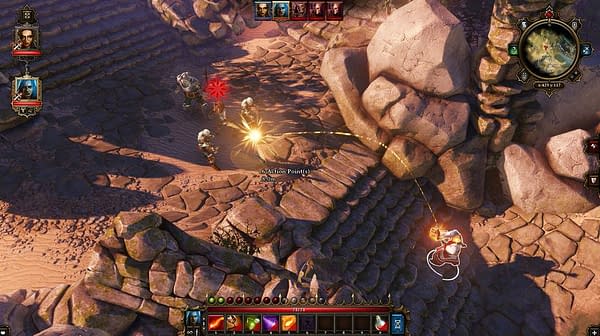 It's been a great few years for isometric strategy role playing games. Between the revival of X-Com, Wasteland, or even new interesting concepts like Chroma Squad, strategy is back in a big way. Of course you can't talk about settings for SRPG's without mentioning fantasy and while most people might think final when they think fantasy, you may want to think Divinity: Original Sin Enhanced Edition from Larian Studios. The isometric role playing game places you in the role of a "Source Hunter" tasked with riding the world of evil magic users. Gather a party and do battle with all kinds of creatures in a world where you can interact with anything. Is there water on the ground? Well a lightning spell might just be extra effective. You can block doors, burn down forests, and do just about whatever your heart desires to get the job done. It also has an interesting character creation system that isn't hampered by traditional character roles. Divinity also features couch co-op so you can nerd out and argue about attack radius with a friend or significant other. Divinity Original Sin Enhanced Edition released Tuesday for PlayStation 4 and Xbox One, with the PC version available as well.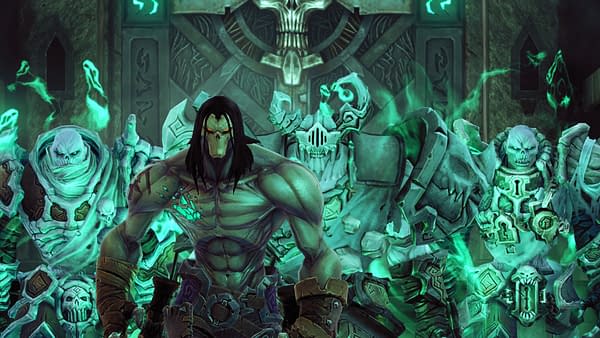 I'm generally pretty unimpressed with re-releases. It should take more than a new coat of paint and better frame rate to warrant a new version of a last generation game to come out with the "Hi-Def Edition" label. However every now and then an under-appreciated gem does slip by and with that I give you Darksiders II: Deathinitive Edition from Nordic Games and Vigil Studios. The 3rd person hack and slash is a bit deceptive as it mixes fast paced Devil May Cry/God of War combat with Legend of Zelda style puzzle solving. The story follows up the also under-appreciated first game as Horseman of The Apocalypse, Death, seeks to exonerate his brother, War, as the main culprit in starting the end of days. The story is a little bit over dramatic, but it's a nice change of pace from the typical Legend of Zelda puzzle adventure, where you'll fight Ganon yet again. The Deathinitive Edition also includes all the downloadable content from it's initial release, including weapons packs, and Argul's Tomb. It also comes with the standard high definition upgrades like better graphics and a bump to 1080p for the low price of $29.99. The real shame is they didn't include the equally good original Darksiders in the pack too. Darksiders II: Deathinitive Edition released Tuesday for PlayStation 4 and Xbox One. Finally this week we have a hard as nails space shooter with 17-Bit Games Galak-Z: The Dimensional. The 2D rogue-like shares DNA with classic anime of the 70's and 80's and space shooters like Gradius and R-Type but takes a decidedly hardcore turn by adding a focus on 360 degree movement and combat. Galak-Z is not for the faint of heart with players having to conquer up to five stages before clearing a level with the old school death mechanic flinging you back to the start with little to show for it except frustration. It's not a bad game by any means, but it's hard…very…very hard. Galak-Z: The Dimensional releases Thursday on Steam with a PlayStation 4 version currently available.
That's all for this week folks, stay gold!
Jared Cornelius is some guy from the Jersey coast who'll miss Hannah Means Shannon. Wish her well @HannahMenzies and follow me @John_Laryngitis.