For those of you who have been digging the music to Disco Elysium, good news, the soundtrack is finally available for you to purchase. ZA/UM made the announcement on Twitter, revealing a 28-track album composed by British Sea Power, available in MP3 320 kbps format on Steam. As of right now, the entire Disco Elysium soundtrack will run you about $15.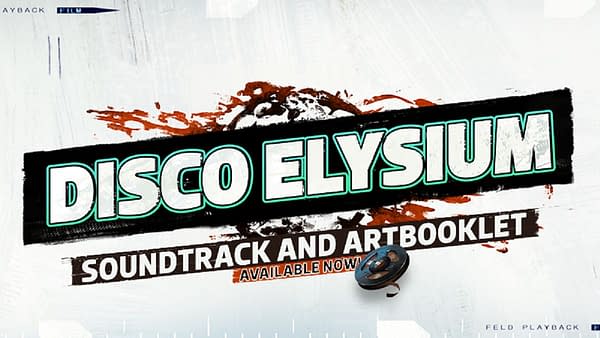 Accompanied by a 30 page digital artbooklet curated by Aleksander Rostov. Original pieces of in game art and concept art by Aleksander Rostov, Kaspar Tamsalu, Rauno Somelar, Markus Härma, Siim Raidma, Mikk Metsniit, Anton Vill, Jüri Saks, Pavlo Guba, and Mehdi Annassi. With three extra wallpapers in 4K resolution (Thought Cabinet, Conquest of Revachol, Martinaise Skyline)

Tracklist:
1 Instrument of Surrender
2 Whirling-In-Rags, 8 AM
3 Detective Arriving on the Scene
4 Tiger King
5 Your Body Betrays Your Degeneracy
6 Precinct 41 Major Crime Unit
7 The Insulindian Miracle
8 Polyhedrons
9 Live With Me
10 The Field Autopsy
11 Miss Oranje Disco Dancer
12 Rue de Saint-Ghislaine 32B
13 The Doomed Commercial Area
14 The Cryptozoologists
15 Whirling-In-Rags, 8 PM
16 Disco Elysium, pt 1
17 Disco Elysium, pt. 2
18 Ecstatic Vibrations, Totally Transcendent
19 Saint-Brune 1147 (Small Pinewood Church)
20 Martinaise, Terminal B
21 We Are Not Checkmated
22 Hope in Work and Joy in Leisure
23 Burn, Baby, Burn
24 Whirling-In-Rags 12 PM
25 La Revacholiere
26 Krenel, Downwell, Somatosensor
27 Off We Go Into The Wild Pale Yonder
28 ZA/UM
Enjoyed this article? Share it!