Viv Vision & Kate Bishop Join Marvel Contest Of Champions
Viv Vision and Kate Bishop officially become the latest additions to Marvel Contest Of Champions in the next update.
---
Kabam revealed two new heroes that are coming to Marvel Contest Of Champions today, as players will get to play as Viv Vision and Kate Bishop. The latest update to the game, V38.1, brings both of these powerful women to the roster, giving you some cool new options to fight with that aren't just clones of Hawkeye or Vision. We got more info on both of them below and notes from the update, as you can find the complete list of what's been added to the game on its website.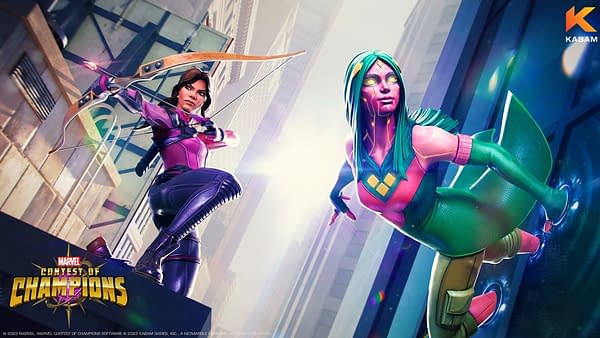 Viv Vision
To many she is known as the daughter of Vision, the lone survivor of the synthezoid's attempt to literally build himself the perfect family. But to her teammates, the Champions, Viv Vision is a powerful ally, a tactician of unparalleled efficiency, and a trusted friend. She possesses all of her father's powers, such as solar radiation absorption and projection, a computer consciousness, and the ability to manipulate her density at will. Viv's potential is limited only by her age and experience and, given her ability to learn and grow like a human, there is no telling how powerful she may yet become.
Kate Bishop
Kate Bishop's life was forever changed when she witnessed Hawkeye's heroics during the Battle of New York, inspiring her to pursue excellence in archery, swordplay, and all manner of combat skills. She eventually partnered up with her hero and learned the secrets of his famous trick arrows.
Incursion Danger Rooms
Beast has rebuilt the Danger Room, but something's gone awry. Do your best to survive in special Danger Room Incursions and return Components for analysis. Earn Danger Room Components for each Zone you clear, and spend them on resources you desire in the Danger Store!
Marvel Contest Of Champions Updates
2-Star to 6-Star Star Hulk is getting a major update! Check out his Champion Spotlight for more information!
To account for the new Hulk update, we have made the following changes to Back Issues #5: Quest 6:
Path 1: Bleed Vulnerability, Stun Immune, Biohazard changed to Juke, Biohazard
Path 2 (including Mordo): Bleed Vulnerability, Caustic Temper changed to Juke, Fight or Flight
Please note: In v38.2, we will be reverting all 1-Star Champions that have received Buffs to their original kits. The changes that we are making to Back Issues right now are to make the quest easier, accounting for that reversion.
Removed Enhanced Fury from all Hulk fights in the following Chapters/Quests:
Story: All of Act 5
Road to Labyrinth: Quests 1.2, 2.6, 3.3