Conan O'Brien is back to making gamers love and hate him at the same time, as he recruits Bill Hader to join him in another session of Clueless Gamer, as the two of them tackle the PS4 hit game God Of War. If you've never seen an episode of Clueless Gamer, Conan basically takes new games that are on the market and plays them for the first time, always with a celebrity, and does his best to muddle through them and make fun of them at the same time. Often times not ending well, like how he and Elija Wood tore Final Fantasy XV apart last year with a number of Square Enix staff members on the other side of the door watching.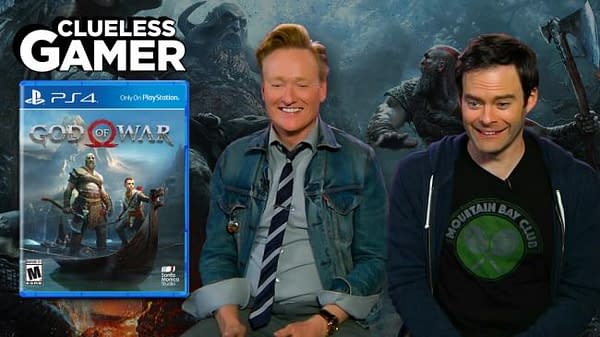 Like a lot of the episodes, the two of them aren't shy about pointing out how incredibly insane and stupid parts of the game are, while also basking in the fake masculinity of running up and punching people's heads through trees without making their head explode. It's all in good fun and is essentially a cheap commercial for God Of War with a late night host who gets that video games are fun, but often times are just stupid when it comes to some of their content. Enjoy!
Enjoyed this article? Share it!