Bithell Games and Good Shepherd Entertainment brought with them a fun surprise to E3 2019 as we got to mess around with John Wick Hex. If you're not familiar with this game, this is a tactical strategy game based int he John Wick universe in which you control Mr. Wick himself and have to make decisions about making your way into new areas and taking out everyone along the way. The game is set in a specific clock pacing up to a certain amount of movements, which you can choose to simply move or use weapons against enemies. Every action takes a certain amount of time, which you can use to shoot first, dodge bullets, throw your gun, fire back, change weapons, or run for cover. You make your way down a specific path in the city to get to an end boss to take them out.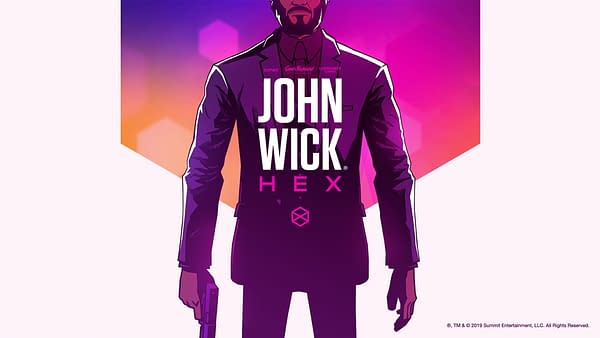 We didn't get much of a story for John Wick Hex beyond the idea that it's pretty much a prequel. This is Baba Yaga in his full form, most likely while you're working for Viggo. The graphics of the deep purples and light pinks all shaded on a city of black is amazing artwork to check out. Everything about this made us feel like we were in an intense fight even though it is done purely as a strategy title. Every decision means something, and failure comes when you're shot once, meaning you need to account for everything you do. We look forward to playing and reviewing the full version down the line. You can pre-order John Wick Hex as we speak, but the company doesn't have a release date set for it yet. Enjoy the video we have for you below of the game in action!
Enjoyed this article? Share it!