We Played "The Legend of Zelda: Link's Awakening" For Switch at E3
The one game I was dying to play during our visit to the Nintendo booth at E3 was the Nintendo Switch version of The Legend of Zelda: Link's Awakening. While there is no denying classics like Link to the Past and Ocarina of Time, there's a special place in my heart for Link's Awakening as it was one of my most frequently played Game Boy titles and a Zelda title I've beat multiple times in my life. And while I know nothing will beat the experience I had with the game as a teenager, seeing it in a whole new light on the current Nintendo console has made me absolutely happy. So how did the game play when I finally got the controller in my hands?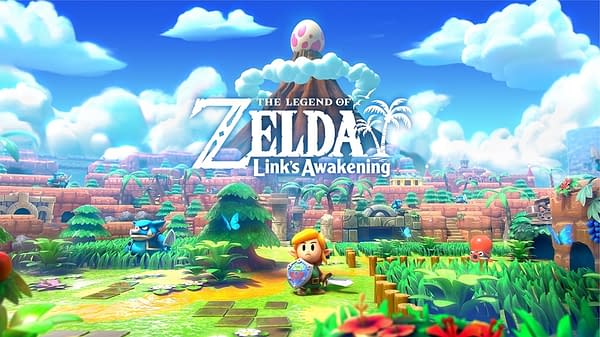 So first off, while this is a remake it is not a shot-for-shot reproduction. The demo didn't give us a chance to see any of the new stuff, but we have seen the video of the build-your-own-dungeon in order to earn heart containers in the game. The demo took us through the early stages, from waking up in town to getting your sword to making it to the first dungeon in the woods. The art style suits the game well, especially since this was the first Zelda game to do things like side-scrolling and fishing challenges. Everything about the original is here for you to enjoy with amazing art on characters like Bow-Wow, Marin, the kids playing ball, the sage owl, Tarin, and even the enemy designs. Everything fits well here. There's even some fun artistic license where the map you have is a "sketch" of what the island looks like, but it updates to a modern gaming map when you explore certain areas.
I had a lot of fun playing The Legend of Zelda: Link's Awakening and my only complaint is that the demo was too short and I wanted to stay longer. This is literally a game I needed in my hands yesterday, and as far as I'm concerned, was one of the best of the show all E3 2019. The game will be coming out on September 20th, and as we've discovered, there will be a Dreamer Edition being sold which includes an official art book behind the new game.