What's in the Box?!: Geek Fuel EXP Vol. 2
It's been a couple months since Geek Fuel rebranded their boxes and created their new EXP version. This month we got Vol. 2 on our doorstep. Technically we got it near the end of August as we were preparing to go to PAX, so we didn't get a chance to dive into it until we got home. The first box by the company was pretty awesome and made us excited about what they had to come. But will the second box keep the hype? Let's rip into it and see what it has in store.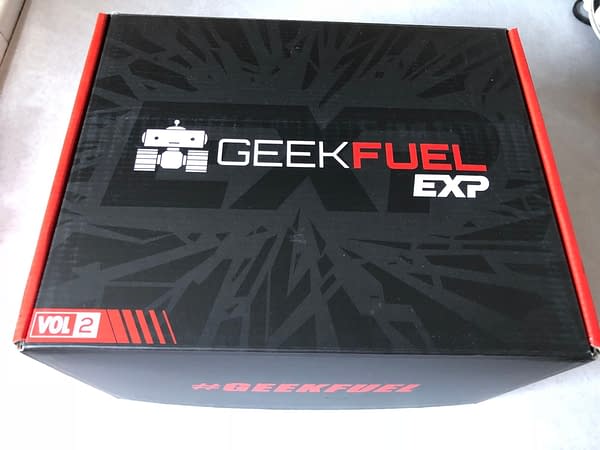 First item at the top is clothing, as we get a pair of Space Invaders socks. These are awesome! You get all of the aliens in different colors along the leg followed by the tank at the bottom shooting up from the heel. And in case you didn't know what it was, Space Invaders is written across the sole. Very awesome pair of dress socks, but also hard to hide in public if you're trying to be discrete.
Next up is their video game, Epistory: Typing Chronicles. This is a typing adventure game where you'll write words that appear on the screen in order to further the adventure. It's a pretty awesome indie title that isn't super labor intensive and is easy to grasp, unless you're terrible at writing words as they appear. Very cool addition to the box for gamers.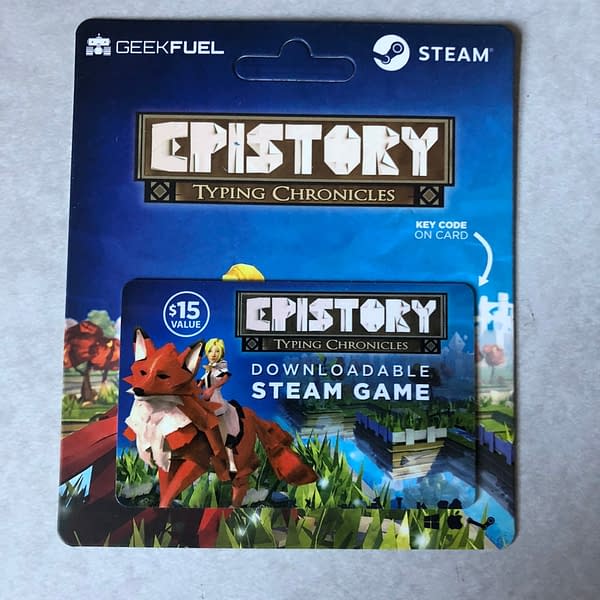 Moving onto something from Rick and Morty, who seem to be in every box these days, we have an air freshener. This is probably the most "meh" item in the box as it's basically an excuse to put an R&M item in here, which doesn't have any special scent to it. It still smells like new car, so nothing special like some berry scent that they could have called something else and made it sound exotic. Not giving Geek Fuel grief, but a little toward Adult Swim for not even trying on this one.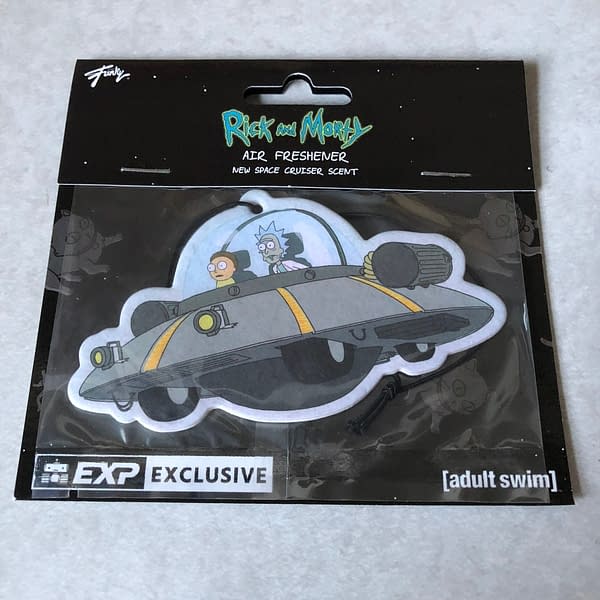 Next up, we got another Marvel Comics Canvas! Last month we received a cover of Wolverine #1 to hang on our walls, and this month we get the cover of Amazing Fantasy #15, which is the first appearance of Spider-Man. The artwork looks great on the canvas with few flaws. The added "webbing" behind the title, which wasn't there before, just to add a little more spider theming for effect. Beyond that, it's spot-on to the original and will have a lovely spot in my home.
Next was one of the most charming items I've ever received in a subscription box in the form of Super Mario Bros. Super Shakers. We received two ceramic salt and pepper shakers in the form of the Mario Bros hats, with Mario as the salt (fitting) and Luigi as the pepper (depending on what kind of fan you are, also fitting). These are pretty easy to load use, and they're designed so that everything rolls to the top of the cap when upside down. No real complaints about these, but not a lot to say on them either. They're well made and very cool to add to my kitchen.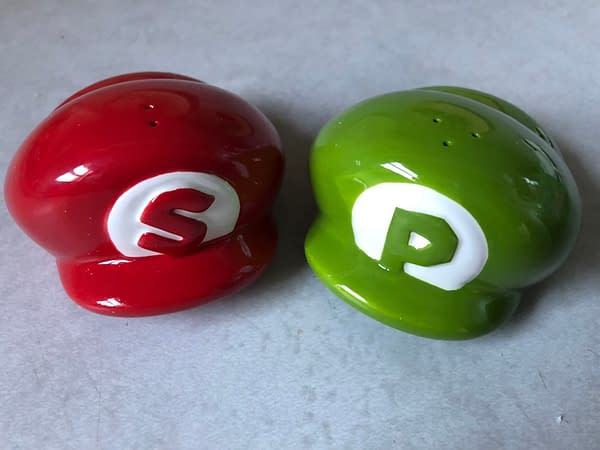 Getting into some figures, the first of two we received is a Marvel Q Fig featuring Deadpool. This one is specifically his X-Force variant called #UnifornSelfie, in which we see him posing with a couple of unicorn toys, and one in his arms with a Deadpool mask. It's a fun figure to have on your desk that has some decent detail, but it is definitely for a specific kind of fan of the character. But still an awesome and fun figure to receive.
The second figure we received is a Predator bobblehead, specifically designed with battle damage that also glows in the dark. This one is nice, but at the same time, didn't need to be a bobblehead. I feel like we got a bobblehead just to have something different in the box and nothing more. That being said, it still looks pretty awesome and makes for a good figurine. I was a little bummed that the glow didn't work that well. I'd show a picture, but you wouldn't be able to see it very well, even after I stuck a bright light on it for about five minutes to charge. As an added bonus, the Geek Fuel box it came in has a little diaorama set you can pose him in with punch-hour soldier figures.
Finally, the make-or-break item of the box: the t-shirt. This time around we received an Ant-Man shirt that has different pieces of art from Ant-Man #1. It came in this fun little box that looked like an ant farm on the front, which was a nice touch. The art on the shirt was way cool and was probably one of the better comic art shirts we've received in a while, This one was a winner for us.
Overall, a very badass box. In fact, we believe this Geek Fuel EXP box outdid the previous one! This is one of those boxes that makes the subscription price well worth the cost. We're looking forward to seeing the next box, which according to their calendar, will be arriving sometime in November.