What's In The Box?!: Loot Crate DX – May 2018
Yesterday, the wonderful Loot Crate gods smiled upon us and got me the Loot Crate DX a little faster than they did last month for review. Considering that these boxes have been pretty awesome so far, I was already stoked to see what was inside. But, oh my, I was not prepared for what was coming my way.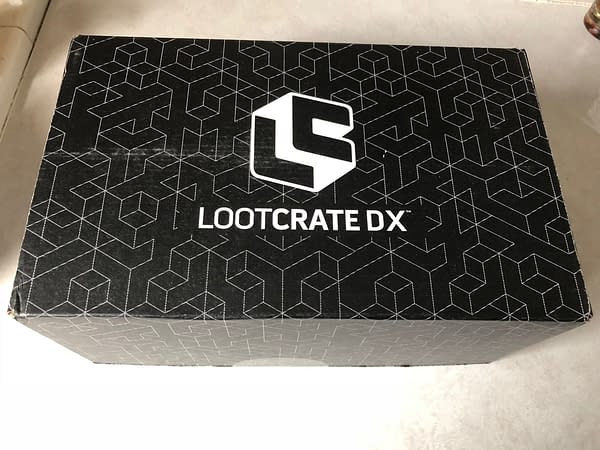 So this month is totally Deadpool. Nothing but Deadpool in this box. Though some of the choices are a little off. Case in point, the pin for this month's box is a taco. Now I'm not going to yell at anyone for giving me a taco pin, this is pretty rad with all the design in the enamel. Here's the problem: Deadpool likes chimichangas. (Yes, I know, he eats tacos too, as well as pancakes, but that's not the point.) Why does this box have a taco instead of a chimichanga? It feels like someone in design said the taco would look better, so we got a taco.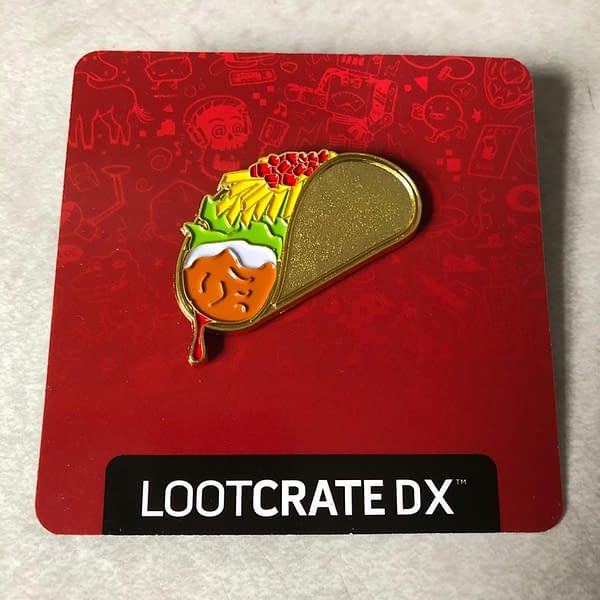 Next up was my immediate favorite item out of the box that I had to wear everywhere, and that's this Kid Deadpool hat. Nothing like having a tiny merc with a mouth on my forehead with a black hat as the resting spot. The back is a metal snap strap for adjustment, which I prefer better to the plastic snap buttons. No flat-brim, it's curved, I know that may turn some people off having a more baseball feel to it. This is just a cool hat to have, no complaints.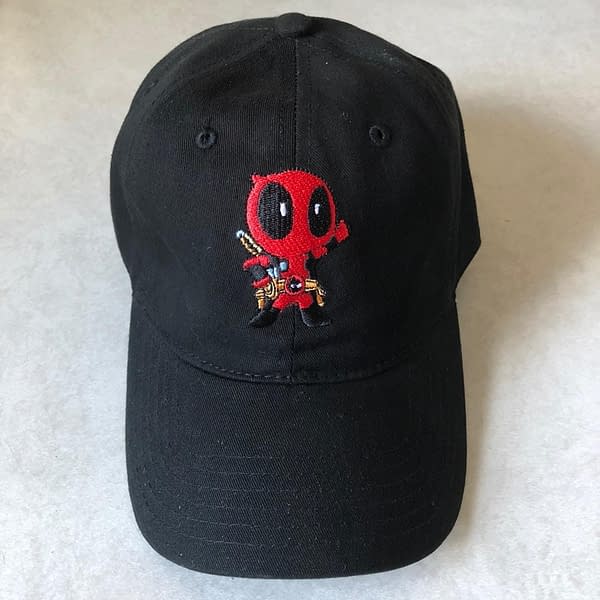 Next up, we get a book called Deadpool: Drawing The Merc With A Mouth. This is about as close to a DK encyclopedia on the character as we'll ever get, except this one is published by Loot Crate and Insight Editions. This isn't just a book about the art of the comics, this goes over the character and his history, as well as the different incarnations he's had in Marvel's history from an artistic point of view. It's actually pretty cool to see some of the art they chose to highlight and examine. This is a winner right here.
Next up, don't need to spend a lot of time on this one because there's not a lot to it. You get a mini-poster for Deadpool 2, with him being showered with bullet shells while pulling off his own version of Flashdance. The poster is a 7×10" glossy that you can stick on your fridge or in a small frame or tack it to something. It's just an item for show.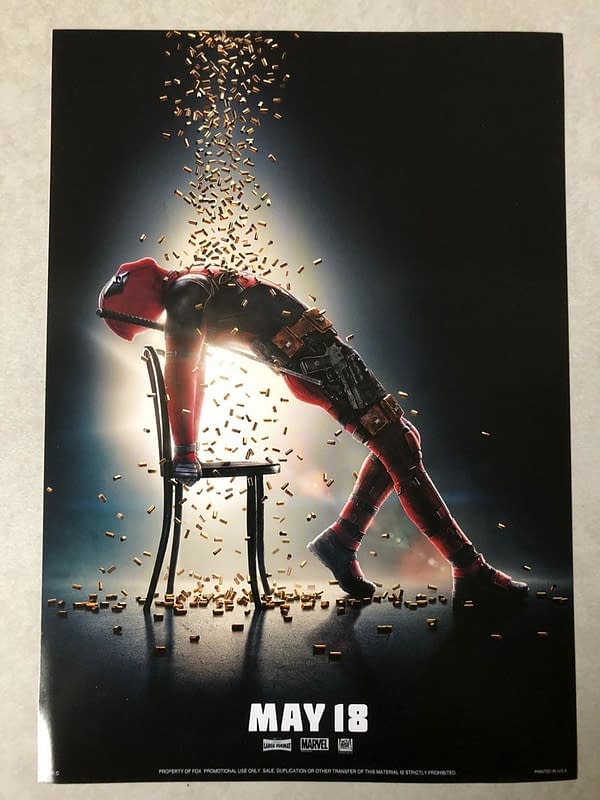 Moving onto a toy in the box, we get a Mr. Potato Head version of Deadpool! There's some pros and cons about this that need to be mentioned. I enjoy the cloth over the potato, I enjoy the Deadpool body for the base, I like the katanas on his back, and the overall design of his hood for the potato made me laugh. However, it comes with a face that's near impossible to put on underneath, the katanas don't come out to put in his hands, and there's nowhere to store the piece you can't attach or use. Overall, it's cool, but it is one of those items where you look at the one remaining piece and think "really?"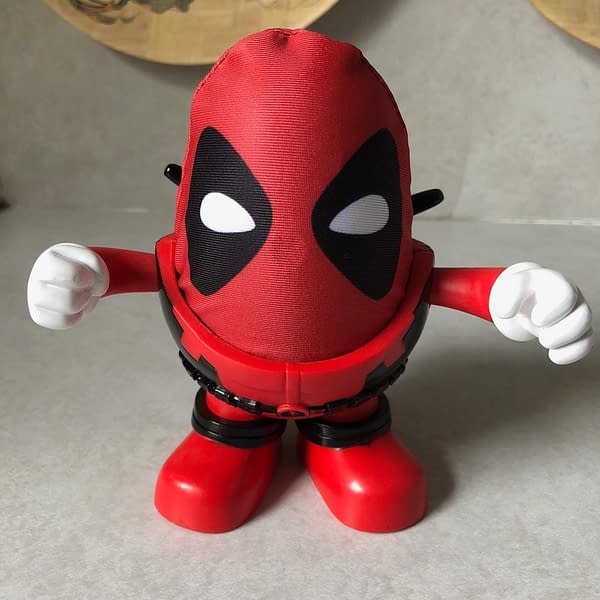 Finally, the make-or-break item of the box: the shirt! This time around we got a bit of an oddity as we have a raglan (or a baseball tee for some people). The design of it is cool as you get a small Deadpool in the corner saying "I make this shirt look goooooood!", along with the black arms that go down to the shoulders. However, the cloth is super thin, thinner than some other raglan shirts I own. I'd say the only people who should be wearing it are those who are fit or swol, because this will show off your body in ways you may not like. At least you now have an excuse to go to the gym, right?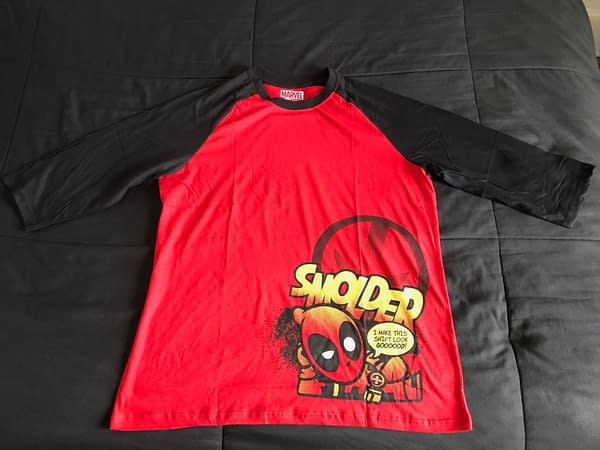 Overall, pretty awesome box this month from Loot Crate. I enjoy when the theme for everything matches and there are some awesome items in here that will make any Deadpool fan's day. If you're not a Deadpool fan, it probably sucks to have this box right now, but you can probably give what you don't like to a friend. We enjoyed this a lot and look forward to what they got in store for June.