What's In The Box?!: Loot Crate DX – October 2018
We're still playing a little bit of catch-up with Loot Crate as we got sent a number of subscription boxes from them at the end of December 2018. So while these reviews are technically late, it has a little more to do with the company shipping them out at later dates than us being lazy and getting to them now. But in any case, we got a few for you over the next day or so, and we're starting with the Loot Crate DX box for October 2018.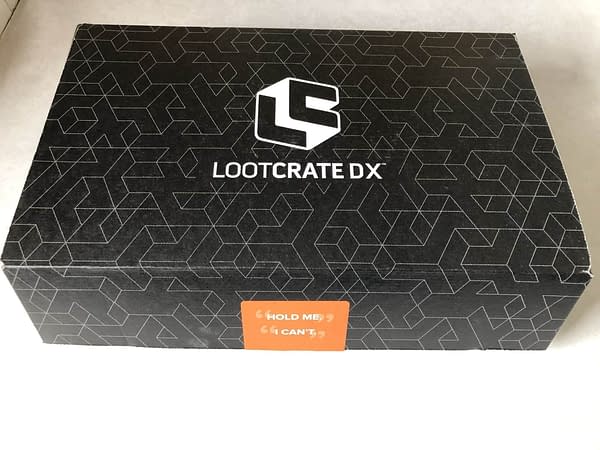 We'll start with the pin of the box, which is a Dark Souls skull pin. This is a throwback to Dark Souls II with a fine reference to the cursed skeleton known as High Lord Wolnir, complete with a gold crown and the skull in silver. This one is a pretty awesome design that I kinda wish I had back when the game came out. Aside from the fact that it's a metal stopper on the back and not a rubber one, this pin is pretty well done and a fine addition to the collection of any Dark Souls fan.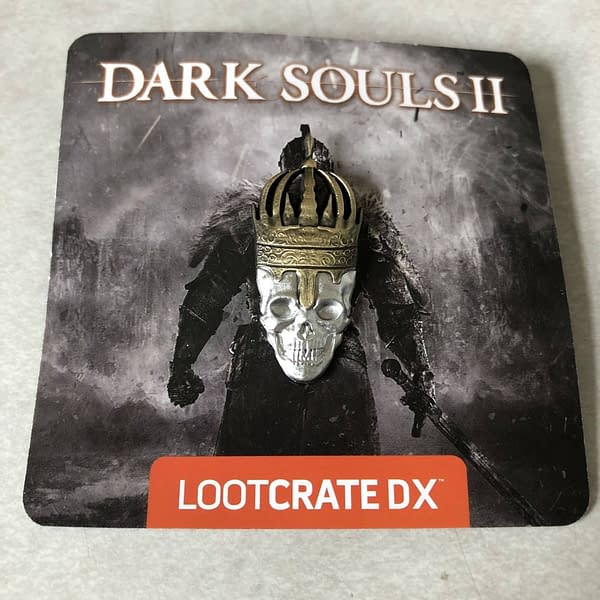 Next up we have a keychain from Evil Dead 2. Here you get a pretty awesome looking keychain where you have the famous boomstick along with the lower part of the chainsaw, so that when you put your key inside of it, it becomes the blade of the chainsaw. That's a funny and clever idea. I like that they put this in its own box and presented it as a collector's item, even though it's your standard rubber-gloss keychain design. I recommend it for a key that only serves a single purpose and you don't have on your standard set, just to make it fancy. No complaints here.
We got a figure in this Loot Crate DX box that will definitely make a lot of '90s goth kids smile, as we have an Edward Scissorhands figure. As you can see below, Edward comes in three pieces: the base, the figure, and the dinosaur he trimmed with his hands into the hedge. I like the way that he looks, even if it is a little exaggerated, it captures the essence of the character perfectly and doesn't really sour what the film or Edward are about. That being said, he doesn't really do anything beyond sit on your desk. He's great for display, not much else, but he looks fantastic.
The first of two clothing items in the box, we got a scarf designed to look like The Mummy's bandages. This one kinda made me laugh as I took it out of the box, because it's such a silly design, but if you're a horror fan then it's exactly what you would like. I was surprised to find the scarf being as thick as it was! The company didn't cheapen out on material and sent something that was really warm to wear outside, and that is a bonus in my book, especially living in a state where it's below 20° every night these days. This was an absolute winner!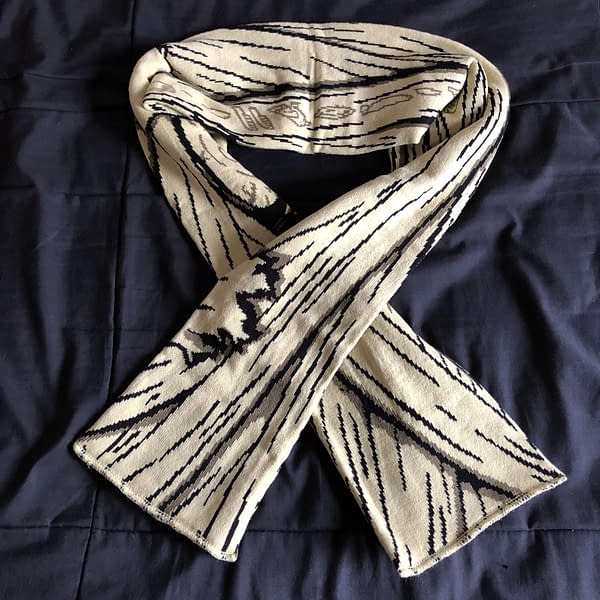 Finally, the make-or-break item of the box: the t-shirt. This time around we got a raglan featuring a picture of Pennywise from the movie It. The current one that was released back in 2017. The design of the Dancing Clown is creepy as ever, in what appears to be a four-color print on white, and resembles something you might have gotten in your youth, around the same age of the kids in the film. I like the shirt to a degree because the design is creepy, but to make it a raglan seemed off. Can't quite explain why, but I'm just not a fan of the look beyind the design on the front.
Overall, a pretty good box. Some hit and miss items in here depending on your tastes, kinda sitting in the middle of quality. Not terrible, but not great. It would have also been better to receive it before Halloween, since this is an October box. We'll see if the November box can turn things for the better when we get to it.