Think Geek are a pretty awesome company who have a lot of items and accessories for the fan who needs just a little something extra to show off their love. Which is why it makes perfect sense they'd do a monthly subscription box, but I'm surprised it took this long to make it happen. The company has partnered with Geek Fuel (who we will review later today) to create their own awesome box, and we got the privilege of reviewing the first one sent out which started this month. The first item on the list is a collectible Pinz pin. These particular pins are some of the higher quality you'll find with raised metal to define the shapes and designs on the pin itself, with a black rubber pinhole rather than a metal one. Much like mystery figurine boxes, they all come wrapped so you can't see or determine what it is until you open it. I actually got the one I was hoping for when I saw the back of the box—a pink and purple potion bottle. I enjoyed this one.
But that wasn't the only pin int he box. Another exclusive to the box was a Think Geek pin with their monkey head logo. Another one made by Pinz using the same kind of design and work, it's a lovely little addition to show off to friends who buy int he same places you do. Next up were a random deck of playing cards. You could have received one of six different designs ranging from Supernatural to The Goonies to The Princess Bride. I lucked out and got one of my all-time favorite franchises: The Ghostbusters. This particular set was made by Albino Dragon Games, with an animated style that looks vaguely like the IDW comics, but not quite. The entire deck is in homage to the first film with each member of the team representing one of the four members. It's also a 30th-anniversary deck, so technically I got one from 2014. Aside from the subtle weirdness of the date and the design, I can't really complain as I now have a deck of playing cards with the Ghostbusters on them!
Moving onto drinking, we get the Magical Mixing Pony Pint. This one caught me a little off-guard as it isn't really from any franchise or established property. It's simply a pink pint glass that you can use for mixing cocktails. The design on the side is kinda cool, if ponies are your thing. The cup itself is metal, a little stouter but wider than your standard pint, so even if you use it for drinking you're still getting a standard drink. The cup itself is good to use, it just seems like more of an oddity in the mix.
Next up is the thing that will make all my Harry Potter friends jealous: crew socks. This pair was made by Bioworld, set for people's shoe sizes 10-13. These are nice and snug, they'll keep you warm in the cold months but they also fit comfy so you could wear them during warmer months and not feel uncomfortable. They come with the Hogwarts logo on the side and the words "Hogwarts Alumni" as if you bought them from a magical graduate catalog on your way out of your senior year. I adore these and am happy to add them to my clothing!
For you Fallout 4 fans, we got an item in the Think Geek box that will make you rush to purchase. This is a Power Armor Helmet that also serves as a piggy bank! The design on this is gorgeous as they've captured the look and feel of the helmet from the game, while also making it modernly durable for the simple need it serves. Essentially, they managed to capture it in just the right forms so you can use it as a display on your desk to show off your fandom, while also making sure it serves a practical purpose. The coloring is well done, even on a plastic model, and the base is easy to open up as it will even hold half-dollar coins inside. It comes in this small television box in case you need to store it as well. This is the best item in the box, by far.
Each box also came with a Think Geek gift card. Not much to say about this one, you just scratch off the code on the back and find out how much it's worth. Mine was simply $5 to go to whatever I feel like buying on their website. Nice little add-on, but again, not much else to it.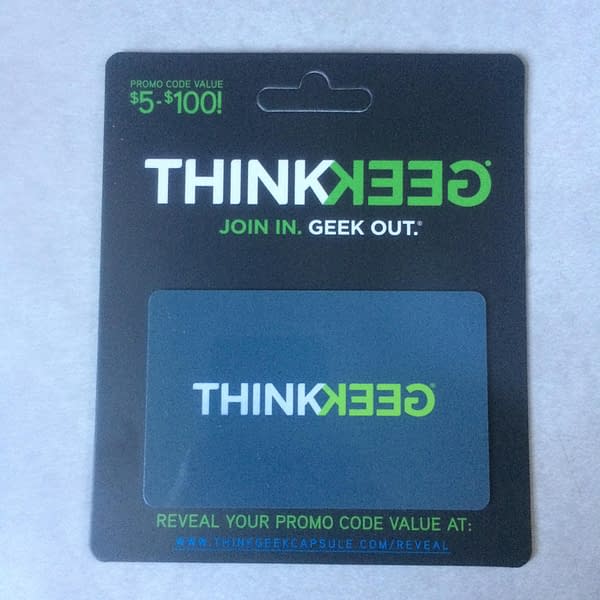 The final item was the t-shirt, and my oh my, was this awesome to take out. An official The Legend Of Zelda: Breath Of The Wild shirt. The design is Link standing all heroic holding a bow with a shield and sword tucked behind his back, and the logo sitting in the bottom-left corner. The shirt itself is mostly a charcoal black, not quite black but not too light so it can show off the design. It is a lighter material that's more form-fitting, but it breathes better than your standard cotton shirt. I'm very happy to have a shirt like this from the game.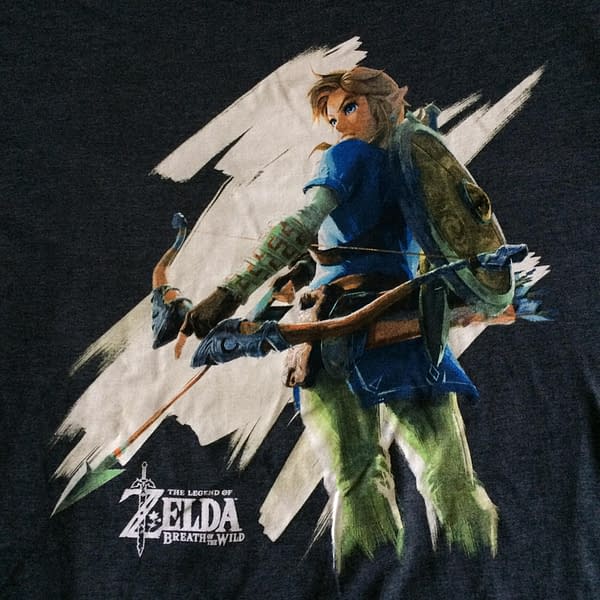 Overall, in my eyes, the Think Geek Capsule is a success the first time out. A couple fo the items were okay, but it's not like I looked at them and thought "why did I get this?" Everything in here serves a purpose and will get used in some fashion in my home or on my clothes. No real complaints about anything, it was an awesome subscription box to receive and I can't wait to review the next one that comes to my door.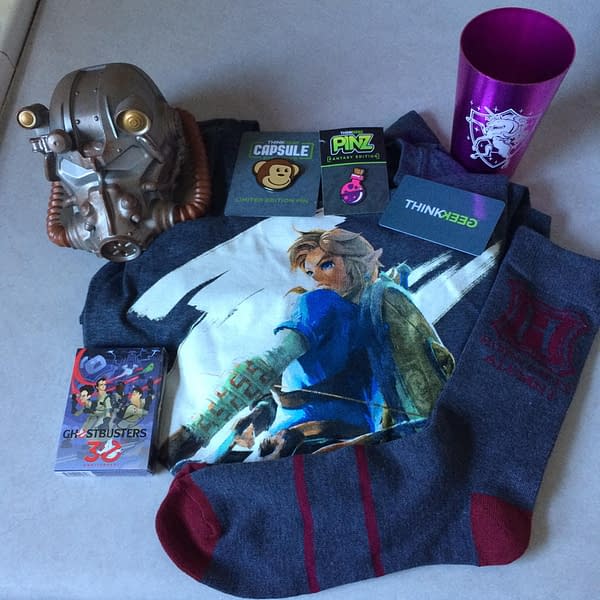 Enjoyed this article? Share it!