A couple of weeks ago we got the awesome opportunity to go visit Wargaming's studios in Austin, Texas and try out new World Of Warships content. The big addition they have coming is one that's been long-requested in the form of Submarines. Fans had been asking for them for the longest time, they'd been teased, and finally, there are here. I and several other gamers and journalists made our way to Texas to try them out for the first time in a build that's still a work-in-progress. We got to play with a couple of different sets in multiplayer matches where we were the U.S. versus Russia in a classic Cold War battle in the ocean.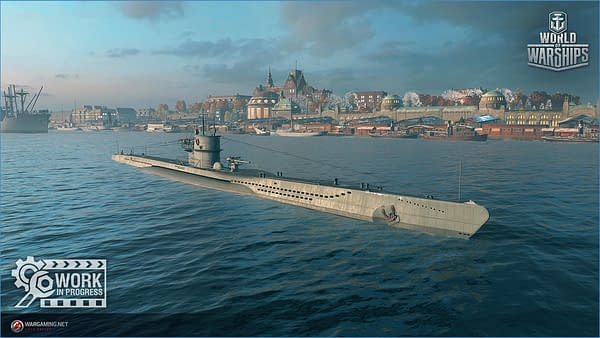 SO first impressions are they the submarines look authentic down to the rust level on the side. Like other ships in the game you can upgrade and add coloring and armaments that can fit onto a ship of that nature. But not anything too crazy that wouldn't work in the real world to keep the realism. The controls for the subs are pretty simple but take some work getting used to. You still use WASD to move about, but the added commands are E to raise yourself and C to lower. There are three levels a sub can maneuver in. The first is Surface level, in which you are exposed and see everything, the second is Periscope level where you can see stuff and are trackable, but you can't fire weapons. The third is Submerged in which you can barely see anything, but if you know where your target is, you have a hidden shot under the water. This also helps take out other submarines who may be under with you.
World Of Warships also added in a fun little air meter that you have to monitor. You can't just stay under the water forever and expect to survive, your crew eventually needs to breathe air. If you're submerged, you will have a timer on you of breathable air before you're forced to resurface. While you're in Periscope mode, the meter moves at half that speed, but you eventually do need to come up for air. It adds a new challenge to the ships you don't have to deal with others, but that makes for a pretty decent balance as there's so much to do on all the other ships. You also have the same perk system with your captains as you would with other ships, where you'll need to decide how to balance them out throughout the skills and ship needs in order to be the best in the water.
I had a lot of fun during my demo as you have the chance to be very stealthy and aid in conquering the seas. But it's not all fun and games for the sub as ships can track you if you're close and even send down depth charges to blow you out of the water. So the majority of the games I played manning a submarine had me planning out a strategy with my teammates and finding the best way to take advantage of them being distracted. You can see what we're talking about here in the latest World Of Warships Gamescom video they showed off this week. The new submarines have a bit of work to go before I think they'll be a perfect fit, but for what we experienced, they were downright awesome and add new challenges to conquering areas and taking out enemies. You also have the fun of being more paranoid at sea.
Enjoyed this article? Share it!