XSEED Games announced today that they will be releasing Rune Factory 4 Special for Nintendo Switch on February 25th, 2020 along with an Archival Edition. The standard edition will run you $40 while the Archival Edition will go for $60 and include all of the content you see below. The company will also be selling the "Another Episode Pack" DLC, which contains 12 new storybook-style episodes narrated by the game's marriage candidates. It will be available to everyone as a free download for four weeks after the game's release. After that, it will cost you $5. Here's a few more details on the Archival Edition.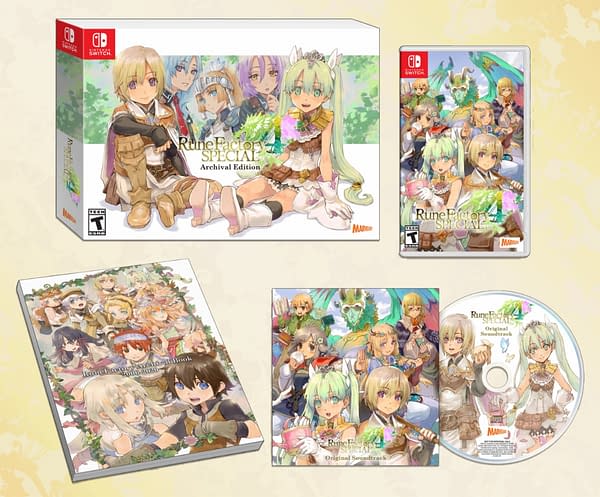 Rune Factory 4 Special is a remastered version of the critically acclaimed RPG simulation title that has sold over 300,000 copies in North America and Europe since launching on Nintendo 3DS in 2013. The updated Switch version adds brand new content such as 'Newlywed Mode,' self-contained adventures unlocked after marrying the character of your dreams. For the first time, the game also fully supports both Japanese and English audio. To commemorate the definitive version of this beloved title, the beautifully crafted 'Archival Edition' includes an art book collecting character designer Minako Iwasaki's work on the entire Rune Factory series, as well as new illustrations for the premium box and art book cover by the artist. 'Archival Edition' full contents include:

Physical copy of Rune Factory 4 Special for Nintendo Switch
160-page art book measuring 5.8" x 8.2" featuring the works of Minako Iwasaki from Rune Factory 1 through 4, Rune Factory: Frontier, and Rune Factory: Tides of Destiny, as well as promotional and comic art contributed by other artists
Official soundtrack CD consisting of 33 tracks from the original release, plus 3 new tracks unique to Rune Factory 4 Special
'Swimsuit Day' DLC, a special in-game Order that will have all marriage candidates appear in their swimsuits
Premium custom box with original illustration by Minako Iwasaki
Enjoyed this article? Share it!