Yu-Gi-Oh! Trading Card Game Reveals Photon Hypernova Details
Konami reveals more details on the Photon Hypernova booster pack coming to the Yu-Gi-Oh! Trading Card Game.
---
Konami revealed new details on a new release coming in February for the Yu-Gi-Oh! Trading Card Game as we look more into the Photon Hypernova booster pack. This pack was designed to simply add new cards to the mix that, for lack of a better explanation, will mess with the current meta and bring more of a sense of chaos to the game. This includes brand-new cards for Kite Tenjo's "Photon" and "Galaxy" themes, a new set of "Chaos" monsters, and a new singular strategy featuring all-new Synchro Monsters. The set includes 100 new cards, which breaks down to 50 Commons, 26 Super Rares, 14 Ultra Rares, and 10 Secret Rares. Each 9-card pack will come with 1 Foil card and eight Commons. We have the full details about it below, as each pack will sell for $4.49 per pack when it goes on sale on February 10th.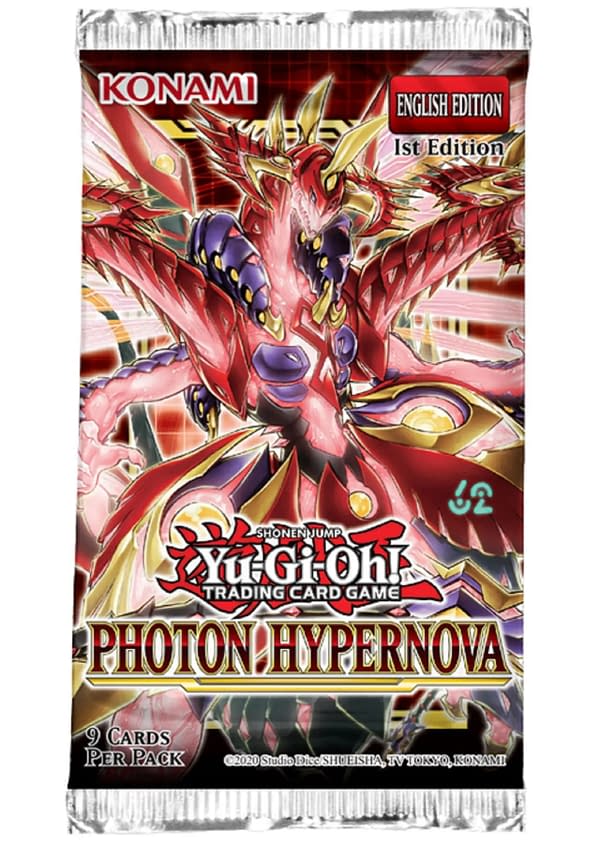 "Fans of Yu-Gi-Oh! ZEXAL and Galaxy-Eyes Photon Dragon can Xyz Summon the new Rank 4 Galaxy Photon Dragon, boosting your other LIGHT monsters by 500 ATK, tweaking your monsters' Levels for more Xyz Summons, and searching out Photon and Galaxy cards straight from your Deck! Ready to attack? Summon out Number 62: Galaxy-Eyes Prime Photon Dragon from Legendary Duelists: Season 2 and use it as Xyz Material for the new Number C62: Neo Galaxy-Eyes Prime Photon Dragon. With 4000 Attack Points and an effect that boosts its ATK by thousands more, it shrugs off your opponent's monster effects and can attack up to 3 monsters during the Battle Phase."
"In the early days of Dueling, monsters like Chaos Sorcerer and Chaos Emperor Dragon – Envoy of the End were some of the most powerful cards in competition. Flash forward, and their legacy continues with monsters like Chaos Dragon Levianeer. But now the "Chaos" name enters a new era! Tune your LIGHT and DARK monsters to Synchro Summon new "Chaos" Synchro Monsters: the first, a Level 6 powerhouse that can reach 3000 ATK, recycle your banished cards, and Special Summon itself from the Graveyard; and the second, a Level 8 that becomes a 4500 ATK behemoth, attacking and banishing all of your opponent's monsters in a single turn!"
"And competitive Yu-Gi-Oh! Duelists take note: the "Kashtira" finally arrive in full force! The stunning Kashtira Arise-Heart emerges to dominate your Duels: any card that would be sent to the Graveyard while it's on the field is banished instead, bringing Tearlaments monsters to their knees! Then, once per Chain, whenever a card is banished, Kashtira Arise-Heart takes a banished card as an Xyz Material. Detach three materials from Kashtira Arise-Heart to target a card and banish it face-down, removing it from the Duel entirely. And that's not all! A trio of new Kashtira monsters makes it easier to Special Summon the Level 7 materials you'll need. One new Kashtira Spell adds even more Summoning Power, and another new Kashtira Spell threatens your opponent with unpredictable damage and negates their monster effects."
"If that wasn't enough, Photon Hypernova delivers new legacy support for countless fan-favorite themes, plus new boss monsters for "Tri-Brigade," "Generaider," "Springan," "Icejade," "Vaylantz," "Gishki," "Dogmatika," and even "Great Moth" Decks! Harness the power of a new Fusion Monster that uses Blazing Cartesia, the Virtuous as a Fusion material, and add a Spell Card to your arsenal that can access any Normal Spell or Trap in your Deck!"