SCOOP: Alan Moore's Feature Film, The Show, Has Premiere at SXSW 2020
Alan Moore and Mitch Jenkins have been making the movie The Show for at least ten years. It began life as a burlesque video that Mitch was making but got more elaborate as Alan Moore provided character, backstory, plot and dialogue, then spitting out five short films collectively dubbed Show Pieces, as well as the outrageous spinoff Frank & Nick Make You Sick. But this was all a precursor to the feature film filmed in 2018 and 2019, The Show set in the world of Nighthampton, where Northampton goes after dark. With gods (or people who think they are gods), the dead, and the places they hang out, The Show is a disturbing halfway point between Ken Loach and David Lynch, with every dark aspect of the various afterlives of humanity poured into it. And a few knob gags.
Long-awaited by people like me, I was able to see the premiere of the first parts of Show Pieces – Act Of Faith and Jimmy's End, in the Northampton working men's club St James End that the latter was filmed in. However, The Show seems to be having its world premiere far, far away, as part of SXSW 2020 in Austin, Texas. 115 minutes long, it starts Tom Burke, Siobhan Hewlett, Ellie Bamber, Christopher Fairbank, Sheila Atim… and Alan Moore himself, with music by Andrew Broder.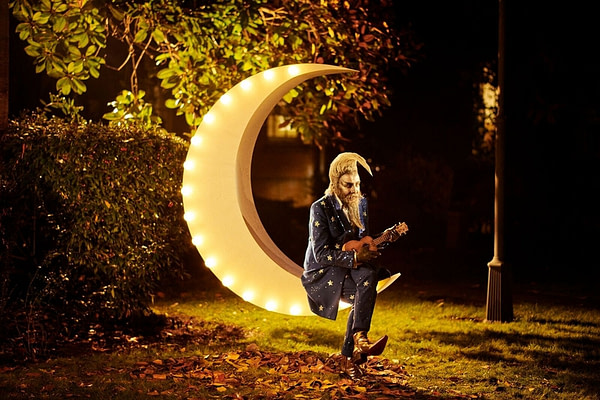 Fletcher Dennis (Tom Burke), a man of many talents, passports and identities, arrives in Northampton – a strange and haunted town in the heart of England as dangerous as he is. On a mission to locate a stolen artefact for his menacing client, Fletcher finds himself entangled in a twilight world populated with vampires, sleeping beauties, Voodoo gangsters, noir private eyes, and masked avengers. He quickly sinks into a bizarre and delirious black hole, that is hidden just beneath the surface of this seemingly quiet town. Soon enough Fletcher discovers that dreams and reality have been blurred and there might no longer be a real world to go back to… Welcome to The Show.
It will have three airings over the festival, in screens that seem impossibly small for the debut of a brand new Alan Moore/Mitch Jenkins movie.
ALAMO LAMAR B on March 15th, 11:30am —1:25pm
ALAMO LAMAR B on March 17, 6pm —7:55pm
STATESIDE THEATRE on March 20th, 7pm —8:55pm
So… is anyone going?