Let's talk about America's Next Top Model cycle 24 episode 9, 'Beauty Is Movement'. In the midst of movement and chaos, the remaining six contestants must master the art of motion on the ground and in a parachute.
Also, if you missed it last week, you can catch up on what happened here. Don't forget that VH1 has this cycle's episodes on their website, within a day or two of airing. And you can watch the interview segment with judge Drew Elliot and the girl that went home in episode 7 here (spoiler: it was Sandra).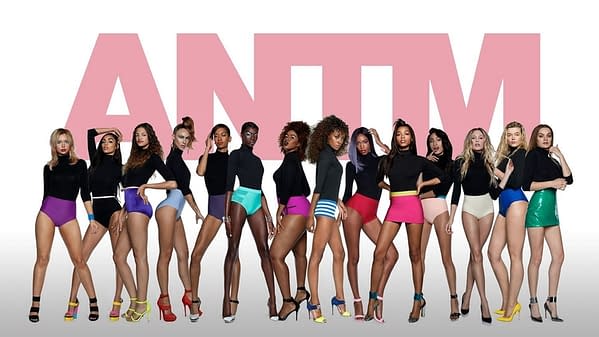 As a reminder, prizes for the winner of this cycle of America's Next Top Model include a cover and spread with Paper magazine, modeling contract with Next Management, and the new twist this year: an ANTM mobile game where the winner will be an avatar along with Tyra, and $100k from Pantene.
Things that happened in ANTM c24e9:
Come back to the house, to see Kyla's photo on the wall as 'best photo'.
Rio starts right off saying "It's about damn time, but she's got the weakest portfolio."
Tyra Mail #1: "You think you're next level fierce? It's time to make some moves."
They start to guess what the challenge is going to be, "dancing, probably."
Jeana and Rio want to be the final two together, their friendship calming the other during the competition.
Ashley Graham is waiting for the contestants at the studio for the challenge.
Ashley introduces Jermaine Browne, a movement coach who works with Katy Perry and the Victoria Secret Fashion Show.
"Be yourself, lets use your natural movements to help you be a model."
Brendi gets called out for her mouth movements, which she admittedly does pretty much anytime she shoots.
Shanice's past in dance comes out — her poorly timed clap and smile does her no favors.
Jermaine talks the ladies through more movements, and Ashley comes in to tell the girls what the challenge is.
A motion editorial for Philip Cline Sports, where they only get one single take, and will be modeling with Jermaine.
Khrystyana panics because Ashley also tells them Jermaine will be lifting the girls, and obviously she's not as svelte as the others (but girl, you gorgeous).
The winner of the challenge will get to keep her outfit from the shoot, and will also get to pick a friend to have a VIP spa treatment right after the shoot.
Shanice is up first; looks like she paid attention for the most part.
Jeana hits her marks well.
Brendi comes on to set nervous, and completely forgets to do the pose for the shot. It's one single take, and she just throws it away.
Khrystana doesn't quite do what she's supposed to, but her natural smile sort of brings it back.
Rio does well in her face, but is almost too dancey.
Erin serves it.
Kyla has no idea what she's doing with her legs.
Brendi is beating herself up backstage (again), and I'm kinda done. She's so good in shoots, but her personality is such a turnoff.
Ashley says there are two standouts in the challenge: Jeana and Shanice.
The winner is Jeana, who picks Rio to go with her for the spa prize.
Jeana and Rio are going to a different 'spa' then they were expecting — turns out it's a cryotherapy session.
Rio and Jeana come back to the remaining girls playing a game and having fun at the house, and there is immediately tension. "Oh, they must be jealous," Jeana tells her confessional.
But really, it just looks like Shanice, Brendi, Erin, Khrystyana, and Kyla are having fun and blowing off steam.
Brendi is questioning her position in the competition, but it feels more like she's wanting sympathy and pity, which we already know she hates. She says she wants to go home, and that the negatives in her life before the competition is effecting her more than any of the positives.
Erin and Shanice do their best to comfort her, but she's adamant that she wants to go home.
I've been a pretty big supporter of Brendi because her photos are always great, but this is every single episode that she needs this level of handholding. Maybe it's just the editing, the narrative, but it's super annoying.
Needless to say, Brendi decides to stay.
The next morning, the girls are on a bus taking them to their next challenge.
Drew is there, and reminds them the week is about movement. "Today is about parachutes, and you have to work in unison with it to make it editorial."
Oh gawd, and now Brendi is talking about going home in hair and makeup.
A big wind kicks up in their outside shoot, and starts blowing things around.
One of the roof setups falls, and Jeana is almost hit by it.
Jeana ends up with a scratched cornea (she says) from sand in her eye.
The challenge is to pose with the parachute, and Brendi is doing okay, I guess, even though she's super stiff.
Kyla is using her height, but is lacking power.
Khrystyna is rocking it.
Erin is maybe too safe.
Rio is getting way into it.
Shanice is more light and airy but werks it.
Jeana requests to not wear the shoes she was put in: "It's unrealistic that I can model in these." She's gonna have a bad time at a runway show, man.
Drew calls her dance mom/pageant girl.
Tyra Mail #2: "A cut is coming, and only the next level fierce will survive."
Panel begins, Tyra reintroduces the judges (Law is back this week), and talks about the prizes.
Shanice is asked who she is, and she says she's still looking for who she really is, what her brand is. Tyra says she's got supermodel quality posing.
Kyla's pose is very classic '80s model — she looks so long. Tyra says there is a heaviness in the pose, though.
Ashley says that Erin's photo was too easy of a pose for her.
Rio's closeup isn't strong. Her eyes are almost closed, and that to me means a poor photo choice on the editor's part.
Khrystyana again just SLAYS her photo. Her body language, her face. Drew says she has an ability to bring the clothes to life.
Jeana's body language is so bad — the judges say she looks short, and Drew tells the judges about her shoe request.
Brendi comes to the panel already defeated, and she breaks down in tears. "I don't think I'm strong enough to be here right now. I don't want to leave, but I need to."
Brendi says she needs to be happy, and is taking herself out of the competition.
She says her goodbyes, Tyra hugs her, and Brendi leaves the competition.
"Just because Brendi left doesn't mean there won't be an elimination."
First photo called this week is Shanice, "That is a butterfly who is emerging."
It comes down to Kyla and Jeana.
Tyra fakes them out, and keeps both.
"We feel like you both performed well, so it's a lucky week for you both."
While I'm sad to see anyone take themselves out of the running, it's probably for the best that Brendi is focusing on her rather than something it didn't seem like she wanted.
VH1 released a preview of next week's episode, which you can see here.
Enjoyed this article? Share it!