Anchorman: Judd Apatow Reveals Bizarre Original Plot
Will Ferrell is one of the biggest success stories from Saturday Night Live. One of the reasons was Anchorman: The Legend of Ron Burgundy (2004). What started as an impression of the late crooner and actor Robert Goulet, Ferrell decided to make Ron the most obnoxious and over-the-top news personality conceivable. Director Judd Apatow, who served as a producer for the film, spoke with Vanity Fair while discussing his career and promoting his latest film, The King of Staten Island. "Will Ferrell and [director] Adam Mckay wrote the script Anchorman and they showed it to me," Apatow said. "The first drafts were really hilarious and crazy. It was about the anchor team flying to an anchorman convention. The plane crashes and they wind up on the side of a mountain where they are all trying to survive and it almost becomes like the movie Alive but with anchormen. We were trying to get it made for years and slowly they started changing the story because nobody would make this crazy version of it."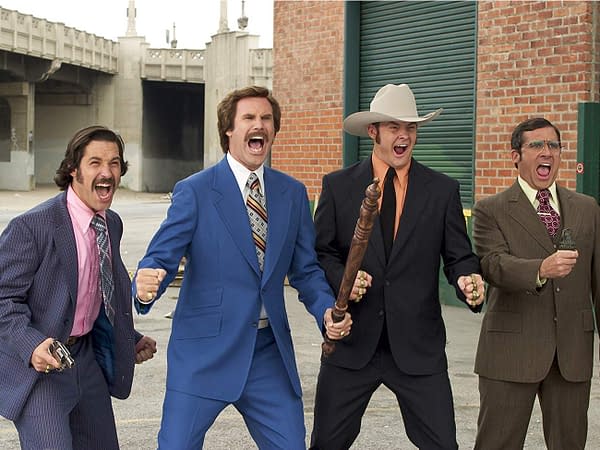 Alive (1993) is based on a true story of the survivors of a plane crash over the Andes Mountains. The plane contained a Uruguayan rugby team and family members. Suffering freezing temperatures and surrounded by snow, they had to face dangerous blizzard winds, avalanches, and a shortage of supplies. As a result, they begrudgingly resorted to cannibalism eating their deceased loved ones. As dark and tragic the film they attempted to based Anchorman off of was, it was probably for the best Ferrell and McKay abandoned the idea and stuck with their changes.
The plot of the original 2004 film surrounded Burgundy and his news crew who worked at a San Diego TV station in the 70s. Their egos are threatened when the station hires a female reporter by the name of Veronica Corningstone (Christina Applegate). The story ended up loosely based on the life of Jessica Savitch, who became a journalism pioneer leading the way for other women to become broadcast journalists. In her experience, she had to endure the incessant chauvinism in her career. Anchorman ended up becoming a profound success at the box office making over $90 million globally. The careers of Ferrell's co-stars like Paul Rudd and Steve Carell flourished following the film. A sequel was finally released in 2013 called Anchorman 2: The Legend Continues, which grossed over $173 million globally. The King of Staten Island is available on demand.