Another New Mulan Featurette Focuses on the Stunt Choreography
Mulan has had quite the journey to getting made. The movie was initially supposed to get released all the way back in 2018 but was delayed. Then it was reported that it would have one of the biggest budgets for a Disney live-action remake with $200 million. Disney was pulling out all the stops because they thought this movie was going to be a massive hit not only in the United States but in China as well. And then, well, 2020 happened. Mulan was among the first major blockbusters to get delayed due to the ongoing COVID-19 pandemic since it had a March release, and for a long time, it and Tenet were being pushed as the movies that could save the summer box office. Well, it turns out that isn't the case. Earlier this month, Disney announced that Mulan is heading to Disney+ as a PVOD format. It's a gamble considering the massive budget they have to make up, and it's a real shame that a female-fronted blockbuster didn't get to have the big screen debut it deserves. Disney has kicked up the marketing and released a new featurette this time focused on the stunts.
It should be noted that Disney is not a company to leave money sitting on the table. The marketing for "for the first time on the big screen" writes itself for Mulan. When it comes to Hamilton, which was released on Disney+ last month, this writer will put money down we're going to see some sort of big-screen sing-along version for a weekend or something like that.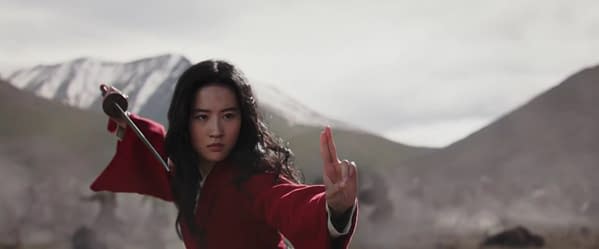 Summary: When the Emperor of China issues a decree that one man per family must serve in the Imperial Army to defend the country from Northern invaders, Hua Mulan, the eldest daughter of an honored warrior, steps in to take the place of her ailing father. Masquerading as a man, Hua Jun, she is tested every step of the way and must harness her inner-strength and embrace her true potential. It is an epic journey that will transform her into an honored warrior and earn her the respect of a grateful nation…and a proud father
Mulan, directed by Niki Caro, stars Liu Yifei, Donnie Yen, Jet Li, Utkarsh Ambudkar, Yoson An, Xana Tang, Jason Scott Lee, and Ron Yuan. It will stream to Disney+ as a PVOD purchase on September 4th.