Arrow Season 6 Finale Recap: Life Sentence
This article contains spoilers for the Arrow season 6 finale, 'Life Sentence'.
.
.
.
.
.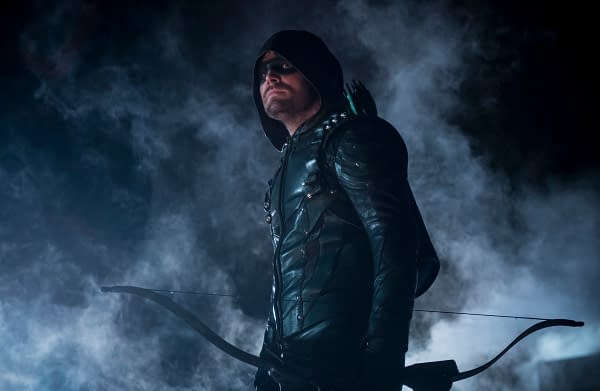 Last night we got the season 6 finale of Arrow, which ends in the way I thought it would for the most part — with a couple of surprises. The end of the previous episode, Oliver (Stephen Amell) and the team barely escaped from attacks by Ricardo Diaz (Kirk Acevedo). Realizing they were way outnumbered and needing help, Oliver went to FBI Agent Watson (Syndelle Noel). But she wanted two things in return. The first was for Oliver to admit he's the Green Arrow, and the second we didn't get to see.
Moving forward to the finale, Team Arrow is back together working with the FBI and moving in on both SCPD headquarters and Diaz's hideout. While they take control of both, Diaz isn't at either. They need Diaz to make all the arrests stick and to get the rest of the people under his control. Meanwhile, Diaz finds Anatoly (David Nykl), who also escaped the raid, and gives him the location where to meet in an hour. He also name drops the Longbow Hunters (a big deal for comic fans). Anatoly takes the information to Oliver while Diaz calls acting Mayor Lance (Paul Blackthorne) and tells him to throw the FBI out of the city or Laurel (Katie Cassidy) is dead. Lance has just signed authorization for the FBI to work in Star City and told Diaz to go to hell because he believed that they were about to move in on Diaz.
Diaz figures out that Anatoly had turned on him and the information was bogus. The building is wired to explode, but Felicity (Emily Bett Rickards) is able to bounce the trigger signal around enough to give Rene (Rick Gonzalez) and a few FBI agents the time need to get out before it blows up. While they are trying to get a new lead on Diaz, Oliver is going around making amends with everyone, including Diggle (David Ramsey), Rene, and Dinah (Juliana Harkavy). Felicity asks him why and what he had to promise to get the FBI's help and get immunity for the team. He doesn't give her a straight answer.
Diaz calls Lance back, giving him a second chance to kick the FBI out, but Lance demands to see Laurel first. He is worried about her and that the FBI doesn't care, but Oliver promises he will keep Laurel safe. But the meeting with Diaz goes differently as Laurel isn't there. Lance demands he be taken to her and that the FBI is trying to get a satellite on Diaz. They take him, which infuriates Watson and confuses Oliver — until he remembers that Lance told him earlier that he had a pacemaker, something Felicity can track. Lance figured things would go south and gave Oliver a backup plan.
Diaz threatens to shoot Laurel if Lance doesn't kick the FBI out, but when he goes to shoot, Lance jumps in the way and takes a bullet to the stomach. Team Arrow and the FBI arrive and start taking down the rest of Diaz's men. We don't see the Longbow Hunters that were mentioned (a group of three assassins so deadly the League feared them), so we're led to believe they were a bluff.
Oliver goes after Diaz while Dinah goes to help Lance and Laurel. Dinah puts her grudge with Laurel aside, knocks the inhibitor collar off of her, and they try to help get the wounded Lance out of the building, fighting together to save him.
Oliver and Diaz end up on the roof, where they have a very well-done fight showing how both are skilled combatants. It might be one of the best fights in the series. Just when Oliver has the upper hand, Laurel shows up and blasts Diaz off the building. The problem is that there is water below and the odds are the fall won't kill Diaz. Oliver is pissed at first but lets it go. Watson is pissed, but Oliver shows her that Felicity rigged up a copy of the data sniffer into his gauntlet and he was able to copy the data off of Diaz's drive while they were fighting. They have the evidence they need to convict all of Diaz's allies.
The episode ends on a series of down notes. Oliver visits Lance in the hospital and has a very touching moment where he admits that Lance has been like a father to him. The story arc between these two has been amazing, going from hatred, guilt and blame for the believed death of Sara Lance (Caity Lotz) to the respect and admiration of friends and allies.
Lance goes into surgery and while everyone is waiting, Sara arrives and meets this Laurel from Earth-2. Agent Watson shows up with two men to arrest Oliver, and we learn that he gave up his freedom to save the city and his team. While this is being explained, the doctor comes out and tells them that Quentin seized while on the table and died. The team is emotionally wrecked as Oliver is taken away. He gets a moment with Felicity where he explains that this was the only way and he was okay with it. He then gets to talk to William before he is transferred.
While being taken out, he speaks to the press where he admits to being the Green Arrow and clears both Roy Harper and Tommy Merlyn of ever wearing the hood. We flash to the team watching the coverage and then to Diaz watching the coverage showing he's still around. We then see him being walked to his cell in Slabside Penitentiary, where the inmates are all yelling at and threatening him.
For those not familiar with it, Slabside Penitentiary is the supermax prison where the government holds superpowered criminals. It was the location of the Green Arrow: Escape from Supermax screenplay that appears to be the loose basis for what will be at least part of season 7.
The Verdict
The episode was very different than most Arrow finales. Normally showing big, free-for-all battles of craziness, this one was much more personal with the action climax taking place in the fourth act, leaving the fifth for the emotional toll and setup. A friend of mine equated the death of Quentin Lance to that of the death of Lt. Col Henry Blake on M.A.S.H. — it came out of the blue when it seemed like the good guys had finally won and just left everyone silent.
Also, with Diaz still being alive, it feels like the season is unfinished, and while three of the five previous big bads have all come back in one way or another, not having the satisfying ending added to the emotional toll. Oliver is in jail, Quentin is dead, Diggle is with ARGUS, there isn't much left of Team Arrow, and Diaz is still a threat. It's a very different way to end a season. That's not to say that it wasn't a good ending, because it was good… and while things look bleak, it also is some great storytelling and what could potentially be the best season of Arrow yet if done right.
And since there is no trailer, I'm going to end this post with a picture of one of my favorite characters in the series who will be sorely missed. I will tune into his new series on NBC, The InBetween, when it debuts… but as a fitting tribute I will say goodbye with one of Quentin Lance's best lines, one Paul Blackthorne has said is one of his favorites: "The city is under attack? Must be May."