Avengers: Infinity War Screenwriters Christopher Markus and Stephen McFeely Talk Thanos and Death
During the Avengers: Infinity War pair of press days in Los Angeles, it wasn't just the stars of the MCU on hand to speak to reporters. Emmy winning screenwriters Christopher Markus and Stephen McFeely spoke a bit (as spoiler-free as they could considering the film hadn't released yet) about their experience crafting the 19th film Marvel Studios has released.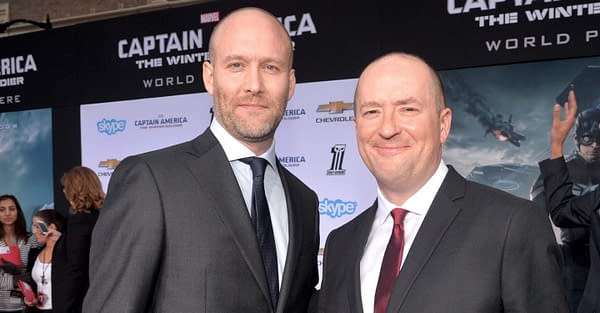 Collider started by asking the pair what the most difficult film to shoot (which admittedly is a strange question to ask screenwriters, who more often than not do not have as much involvement on set.)

MCFEELY: To shoot?

MARKUS: Hardest to shoot. This one. [Infinity War]

MCFEELY: We had two, in Atlanta.

MARKUS: Shooting is pretty easy on us regardless, because we already did our work, most of the time. But yeah, this was a year and a half out on location. In the mud, in the snow-

MCFEELY: That's right. Wakanda's muddy.

MARKUS: And without a lot of coherence, sometimes, because you'd grab people as you got them. This is a hard group to get all together.

MCFEELY: This is the most difficult, I'm pretty confident. The only ones that would rival this in terms of scheduling and difficulty are the Lord of the Rings and Hobbit movies.

MARKUS: But even then, those-

MCFEELY: They weren't movie stars.

MARKUS: They weren't movie stars. You could buy all those people and make 'em live in New Zealand.
McFeely also confirmed that there was more on-set rewriting in Infinity War than on the previous films the pair worked on with The Russo Brothers.
MCFEELY: There was more on this one. Remember, we're doing two, right? One of the big things was, normally, unless you finish the movie, they go and have 10 to 12 weeks and do a cut, and then we start talking about it, right? Well, those 10 to 12 weeks, they're shooting another movie. That is crazy. You need to spend long hours in the editing room, making decisions.

MARKUS: Even then, they would shoot all day, and then sit in the editing room all night.

MCFEELY: And we would always try to, if we still had an actor around, maybe we could get that line better, or maybe we could do that scene again. And so we would always keep trying to "plus" this thing, because we still were shooting the other movie. Chris is being a little facetious that there's nothing for us to do. On this one, there was plenty to do.

MARKUS: There's always plenty to do, I just mean there are people working harder than us during production.
Without getting into spoiler territory, McFeely confirmed that his favorite character to write for this time around was Thanos.
MCFEELY: Thanos was a treat. We've been waiting for him. And he says what he means. And he does not care how you feel about it. So that's nice. Usually, other people have a certain nicety. He's very confident. That's cool, and not something I have.
Markus chimed in about the Titan as well, saying:
MARKUS: He has a vulnerability that is very important to the story. As far as his powers, we knew we wanted him to be—even without the gauntlet, this is a guy who has gone unopposed through the galaxy, slaughtering half of every planet he lands on. He's got an army, but he's about the best you're ever going to come up against, physically and mentally. And then we really wanted to take care, with the gauntlet, that when he got a stone, you saw it in use, and it wasn't just, "Now my punch is three times stronger than before because I have three stones." So doing that, and yet not having the movie go off the rails, was tricky.

MCFEELY: Because remember, there's a lot of people who aren't Marvel superfans, right? So grandma's sitting there going, what's the green stone and what's the red stone? And what's the difference? So there was a lot of work trying to make sure that there were organic reasons to use them, and use them in unique, special, visual ways, so that you understood, "Ah, that's the reality stone. Ah, that's the power stone." That kind of stuff. And that's a lot of people working. A lot of visual effects, but us trying to figure out good uses for them.
See for yourself when Avengers: Infinity War opens on Thursday April 27th.