Battle of the Bats: Breaking Down Who is the Best Batman??
Batman is arguably one of the most popular superheroes of all time and a character that has had enough on-screen incarnations to play an epic softball game. With so many Batmen the debates are endless when the subject of which actor portrayed them best arises in conversation. Everyone has their own opinions, and in part, those opinions are somewhat generational, that is to say, that you are most inclined to think of your first Batman, as the best Batman. But we can't leave it there, we mean to gear up for a Best Batman Battle. Because we don't want to speculate or obsess over every casting rumor for who will replace Ben Affleck and be the next defender of Gotham, let's first look at who has played Batman in the past.
In mostly chronological order:
Lewis G Wilson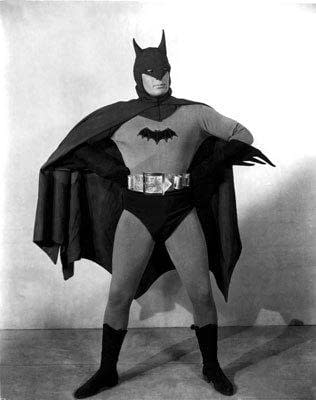 Lewis G Wilson was the first on-screen Batman, he donned the cape and cowl in Columbia Picture's 1943 15-chapter serial The Batman. This is the series that started it all, not only did it lead to a 1949 follow up and the 1960's series, but also to The Green Hornet and changes to the DC comics. This serial has been released to home media various times, at varying qualities. The best version may be the 2014 release Gotham City Serials.
Robert Lowrey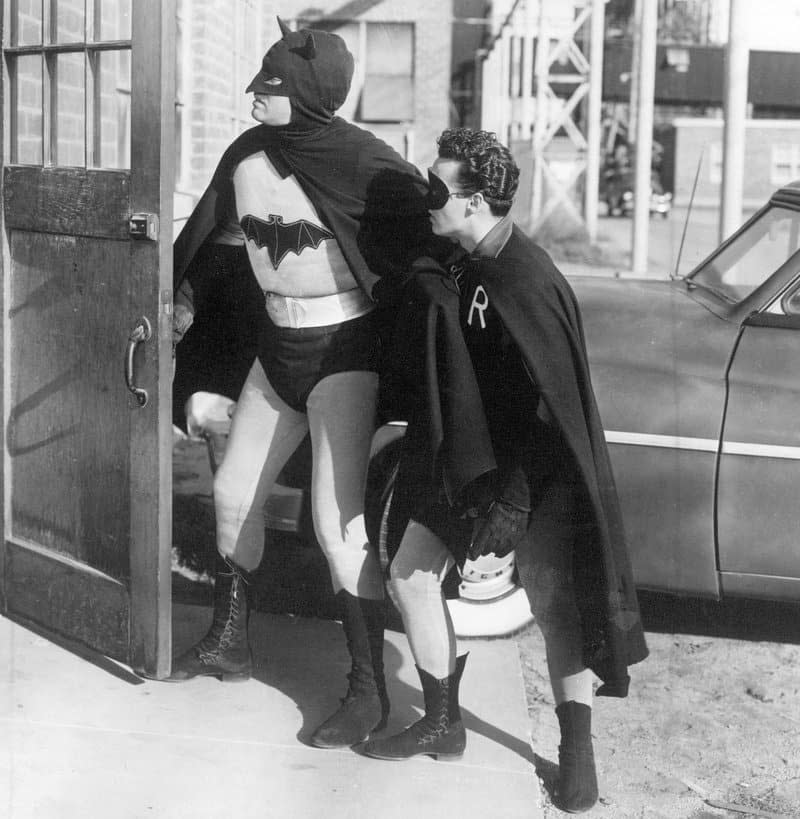 Robert Lowrey picked up the mantle for Columbia's 1949 New Adventures of Batman and Robin 15-chapter serial. Additionally, Lowrey became the first actor to share the screen with Superman in 1956 on an episode of The Adventures of Superman. If that wasn't enough Lowery also made an appearance in a World War II anti-VD propaganda film, Sex Hygiene. This series is also available in the 2014 release Gotham City Serials.
Adam West Adam West starred in the classic Batman TV series 1966-1968, which ran in syndication for decades, meaning multiple generations grew up knowing only Adam West as Batman. It was West that leaned into the camp to bring the comedy out of The Dark Knight. The legacy of Adam West and Batman resonates to this day.
Michael Keaton Michael Keaton brought the world what we now think of as the definitive cinematic Batman in 1989 Tim Burton's Batman, and again in 1992 Batman Returns. Not only did he create the Batman voice but is the only person that is legally allowed to utter the words "I'm Batman".
Kevin Conroy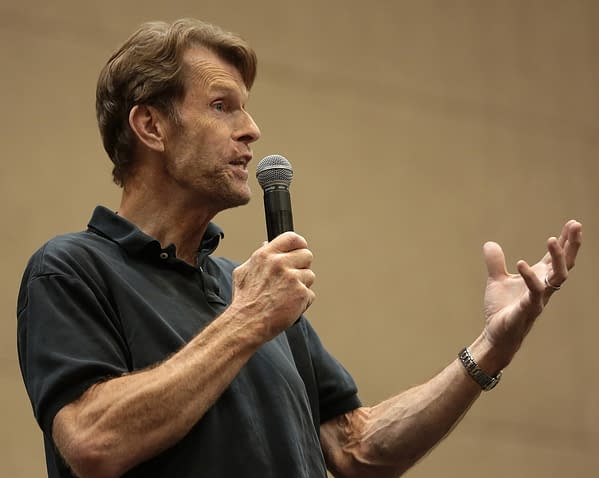 Kevin Conroy has been Batman in Batman The Animated Series (1992 – 1995), Batman: Mask of the Phantasm (1993), The Adventures of Batman & Robin (1994), The Batman Superman Movie: World's Finest (1997), Batman & Mr. Freeze: SubZero (1998), Batman Beyond: The Movie (1999), The New Batman Adventures (1997 – 1999), Superman (1997 – 1999), Batman Beyond: Return of the Joker (2000), Batman Beyond (1999 – 2001), Batman: Mystery of the Batwoman (2003), Static Shock (2002 – 2004), Justice League (2001 – 2004), Justice League Unlimited (2005 – 2006), Batman: Gotham Knight (2008), Batman: Arkham Asylum (2009), Superman/Batman: Public Enemies (2009), Superman/Batman: Apocalypse (2010), Batman: Arkham City (2011), Batman: Arkham City Lockdown (2011), Justice League: Doom (2012), Justice League: The Flashpoint Paradox (2013), Batman: The Killing Joke (2016), Batman and Harley Quinn (2017), and Justice League vs the Fatal Five (2019). That's not even all of his credits for playing Batman. Conroy has spent more time as Batman than any other actor, 17 years and counting.
Val Kilmer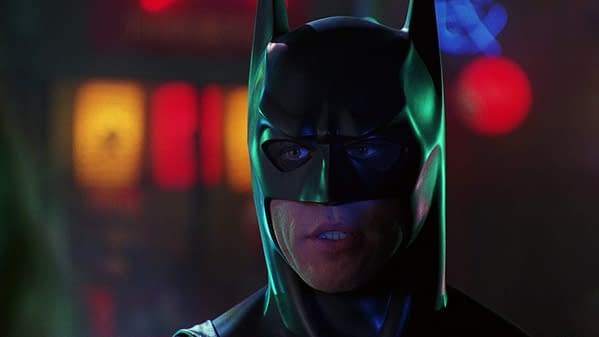 Kilmer had one outing as Batman in Batman Forever (1995), he was adequate but forgettable as Jim Carrey and Tommy Lee Jones overshadowed him.
George Clooney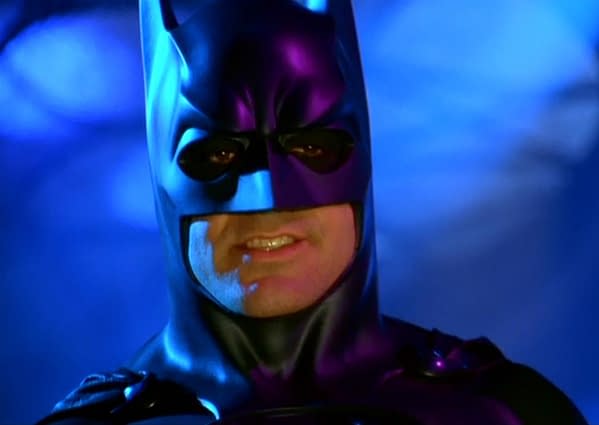 George Clooney gets a bad rap for 1997's Batman & Robin, while it may not be his fault the film is the train wreck it is, he didn't bring anything helpful to the party.
Rino Romano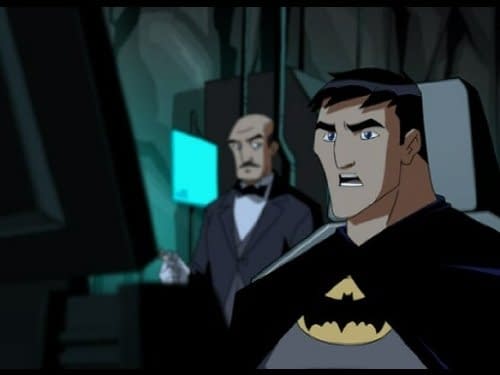 Rino Romano took the mantle of Batman in The Batman (2004 – 2008), and The Batman vs. Dracula (2005). This series marked a return to a campy Batman, reminiscent of the 1960s, while popular the series received a lukewarm reception. However, Romano's performance was a solid entry in the history of The Batman.
Christian Bale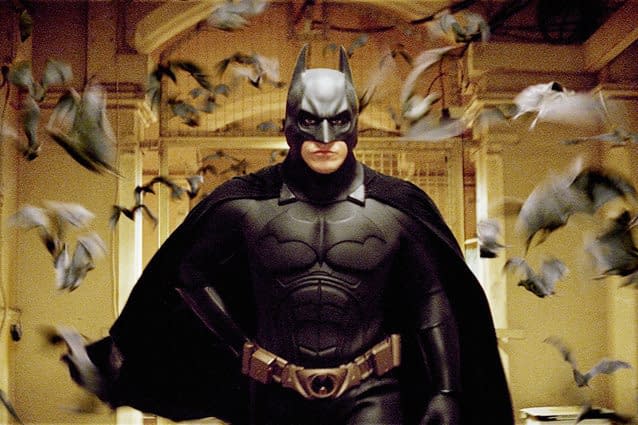 Christian Bale is the next actor to take up the challenge of playing Batman for The Dark Knight trilogy (2005 – 2012). Criticism of his version of the Batman's voice aside, he is one of the most popular performers to take up the role. Bale brought a significant physical presence and intensity to his portrayal.
Diedrich Bader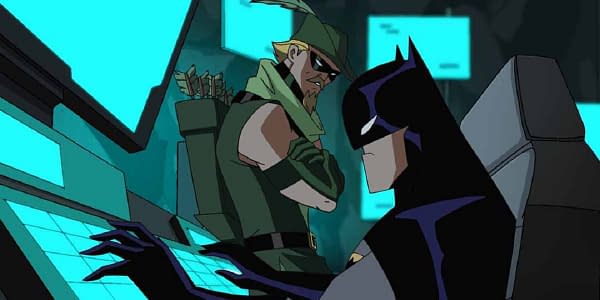 Diedrich Bader voiced the Dark Knight in Batman The Brave and The Bold (2008 – 2011), this was another kid-friendly approach to Batman. It was campy, and kitschy, and offered what may be the most uninteresting version of Batman.
Jeremy Sisto

,

Bruce Greenwood

,

Ben Mckenzie

,

Peter Weller Sisto, Greenwood, Mckenzie, and Weller each had a single outing as Batman in Justice League: New Frontier (2008), Under the Red Hood (2010), Batman Year One (2011), and The Dark Knight Returns (2012/2013) respectively. Each offered performances similar to the character established by Kevin Conroy while not sounding like imitations. While each performance is distinct it is identifiably Batman.
Roger Craig Smith Roger Craig Smith became Batman for the Arkham Series of video games (2013 – 2015), Batman Unlimited (2015), and Batman: Ninja (2018). Another performance that has been compared to and incorrectly credited to Kevin Conroy by those that don't know any better, and who apparently are affected by hearing damage. Roger Craig Smith's performances are distinctly different from any other actor's giving Batman an edge and realism no other performance has matched.
Jason O'mara Jason O'mara is the current voice actor for the New 52 DCAU. He has voiced Batman in Justice League: War (2014), Son of Batman (2014), Justice League: Throne of Atlantis (2014), Batman vs. Robin (2015), Batman: Bad Blood (2016), Justice League vs. Teen Titans (2016), Justice League Dark (2017), The Death of Superman (2018), and Reign of the Supermen (2019). O'mara's performances can easily be compared to Kevin Conroy's, but that would minimize Jason O'mara's work. He has created a unique character that fits in well with the new and often darker universe.
Will Arnett Will Arnett became the penultimate Batman in The Lego Movie (2014), The Lego Batman Movie (2017), The Lego Movie 2: The Second Part (2019), and the upcoming Lego Batman Movie 2. Creating an amalgamation of every previous Batman to great effect.
Ben Affleck Ben Affleck was the Snyder Batman, say what you will about Zack Snyder's DC films Affleck was an acceptable Batman. While there was nothing remarkable about his portrayal it was a version of Batman that had not been previously seen. Unfortunately, we will never see what could have been since Ben Affleck has parted ways with the upcoming production of The Batman.
We all have our favorite performers behind the mask, and the question of who was best can end friendships. Because no one really wants to be friends with someone that cannot tell the difference between a good and bad Batman. Personally, when I think of Batman, I think of Michael Keaton and Kevin Conroy, Keaton/Conroy hybrid would make the ultimate Batman. Now while we wait for the casting news to break tell us who you will use as your Batman Barometer to judge all future actors taking on the role.