Getting Soaked at the World Premiere of 'LEGO DC Comics Superheroes Aquaman: Rage of Atlantis' [SDCC]
Photos and Words courtesy of Bleeding Cool's Jimmy Leszczynski: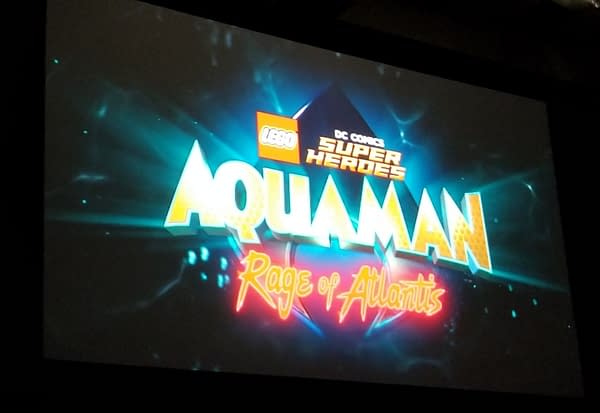 It has been a long five days of talking with celebrities, panels, getting autographs, comics, cosplay, sweating for no reason, standing in lines that would make Disneyland seem quick, and premieres. Late Sunday afternoon we sit down in a nice cool air conditioned room full of families to bear witness to the SDCC World Premiere of LEGO DC Comics Super Heroes: Aquaman: Rage of Atlantis.
Dee Bradley Baker (American Dad!) plays the titular sea king for the first time. His characterization is not pompous or outrageous compared to John DiMaggio's, but he plays him with a noticeable regal stupidity that flows through his entire performance. Baker's expertise at animal and insect noises (Perry the Platypus from Phineas and Ferb) comes to fruit when Aquaman has to speak to the dolphins. The two little fellows next to me, watching wide eyed and slack jawed, almost peed their pants when he "speaks to the fishes".
Troy Baker (The Last of Us, Batman: Arkham Knight) once again voices Batman for the LEGO Universe. A voice that is a mixture of Michael Keaton, a little Kevin Conroy, and Adam West, he would later tell us at the panel.
Grey Griffin (DC Super Hero Girls) uses her iconic talents to voice Wonder Woman and Lois Lane, while Susan Eisenberg (Justice League / Justice League Unlimited) — who usually voices Amazon princess Wonder Woman — swims over to play Mera, and Fred Tatasciore (Batman Ninja) joins the cast as the villainous Lobo.
Aquaman's name is in the title, but the backdoor star of this film Green Lantern/ Jessica Cruz, perfectly brought to life for the first time ever by Cristina Milizia (Bunsen Is a Beast). Although Aquaman gets top billing, a lot of this movie is about Jessica and her overcoming her insecurities of using her new power ring, especially in front of others. Cristina's incredible range takes us from unsure to confident during Green Lantern's journey through this movie.
It is worth noting that Cristina is the first person ever to voice this Green Lantern. Jessica Cruz is currently an up-and-coming fan favorite in the DCU, so we are sure to see her handle the role again.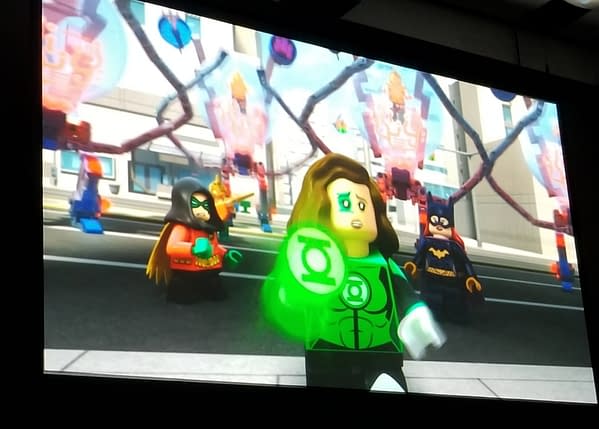 MINOR SPOILERS — Be warned if you have yet to see this film.
The movie opens on Jessica at Justice League headquarters learning to use her power ring when a Danger Alert goes off warning of a problem at a lake — so naturally Aquaman wants to handle to problem. Upon arrival he finds out that it is a dry bed lake, and he is mostly useless.
Well, one thing leads to another, and it turns out Aquaman's half-brother Orm (Ocean Master) is behind everything, just to get his hands on the Atlantean crown. Hold on a second — what does Atrocitus, Dex- Starr, and the Red Lantern Corps have to do with all this? Even though there might be a clue in the title, you still have to watch for yourself.
This movie truly has it all — laughs, scares, light-hearted action, teamwork, double-crosses, guest stars, very simple solutions to real-world problems (Batman sprays everyone with an "oxygen mist" to breathe under water), realizing your true potential when all else is lost, and working as team to dismantle the destructive power of the evil S.L.U.R.P. (yes, they really worked hard to make that acronym work) to save the day. There is even a hilarious running gag about what fits inside Batman's "Amazing Utility Belt" that never gets old.
Based on the amount of laugher and pure enjoyment in the room, I rate LEGO DC Comics Super Heroes: Aquaman: Rage of Atlantis 5 out of 5 LEGO bricks. Don't believe me? I get it. But check this out.
LEGO DC Comics Super Heroes: Aquaman: Rage of Atlantis stars Dee Bradley Baker, Troy Baker, Grey Griffin, Cristina Milizia, Susan Eisenberg, and Fred Tatasciore and is produced by Warner Bros. Animation, DC Entertainment, and the LEGO Group, the film will be distributed by Warner Bros. Home Entertainment on July 31st on Blu-ray Combo Pack, DVD, and digital.