Being The Ricardos Full Trailer Drops, Kidman Becomes Lucille Ball
Being The Ricardos is coming in December, and the full trailer for the film was released this morning. Starring Nicole Kidman as Lucille Ball and Javier Bardem as Desi Arnaz, the film is written and directed by Aaron Sorkin. Taking us behind the scenes of a production week on the show I Love Lucy; the film looks to offer a fictional glimpse behind one of the most beloved on and off-screen couples in the history of Hollywood. You can see the Being The Ricardos trailer down below.
Being The Ricardos Synopsis
"Lucille Ball (Nicole Kidman) and Desi Arnaz (Javier Bardem) are threatened by shocking personal accusations, a political smear, and cultural taboos in Academy Award®-winning writer and director Aaron Sorkin's behind-the-scenes drama Being the Ricardos. A revealing glimpse of the couple's complex romantic and professional relationship, the film takes audiences into the writers' room, onto the soundstage, and behind closed doors with Ball and Arnaz during one critical production week of their groundbreaking sitcom "I Love Lucy." Being The Ricardos releases in select theaters December 10th, and on Prime Video on December 21st."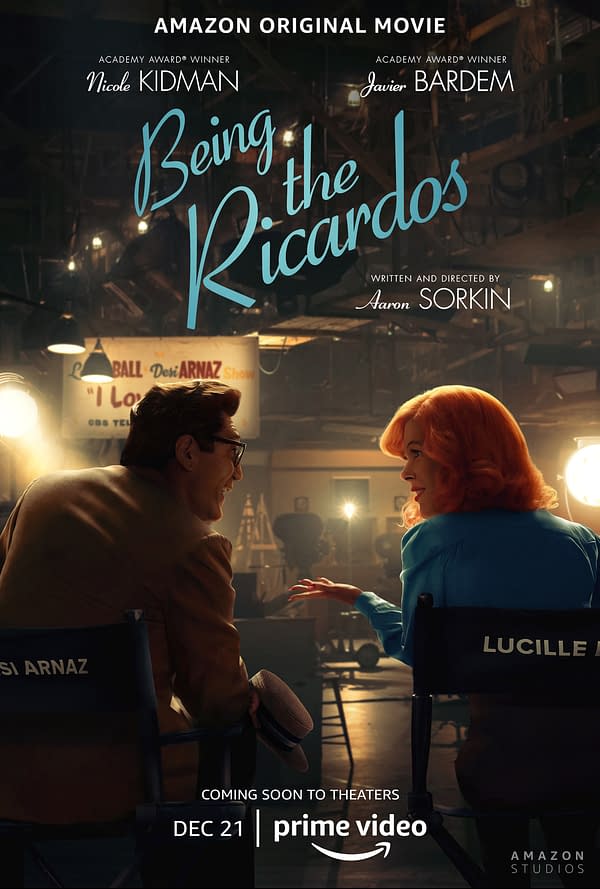 I know that there was some controversy back when Kidman was announced for Being The Ricardos, but this trailer really sold me on not just her but the movie itself. It gave me a real Studio 60 On The Sunset Strip vibe, and since I loved that show, I am all in on this. Being The Ricardos, starring Nicole Kidman, Javier Bardem, Nina Arianda, J.K. Simmons, Jake Lacy, Alia Shawkat, and Tony Hale, written and directed by Aaron Sorkin, will release into select theaters on December 10th, and a full release on Prime Video to follow as well. Expect this to be an awards player.