Bill and Ted's New Journey Includes Advertising For Walmart
Bill and Ted are making a most bodacious return to theaters this year. One of the byproducts of that are media tie-ins and such that are just unfortunately part of franchise movie-making more than ever. One would hope they would avoid this type of thing as much as possible for Bill and Ted, even though we all know that they can't. Still, it was quite jarring to log in to Facebook this morning and see this of all things staring back at me: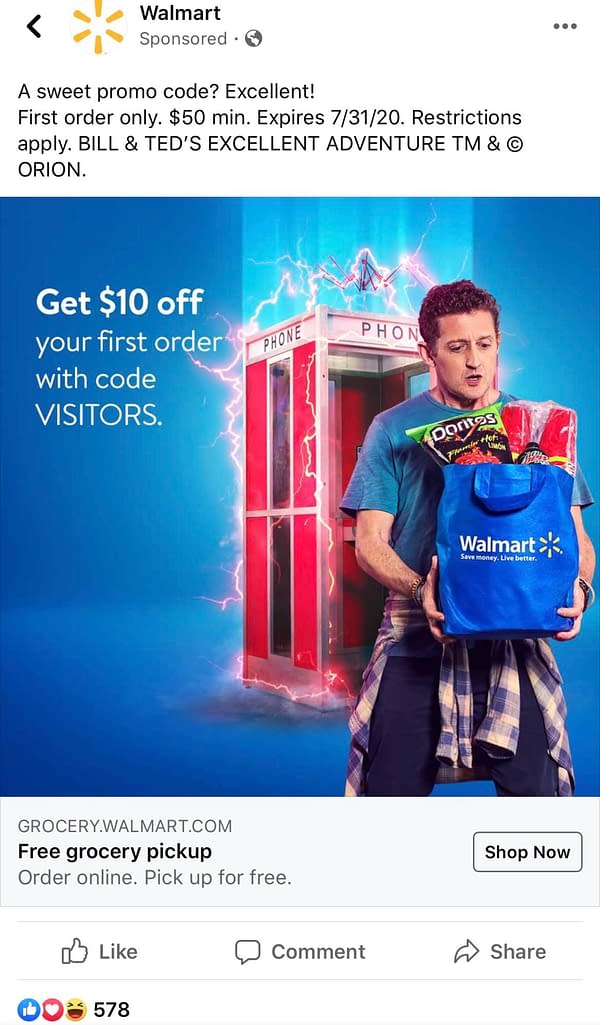 Sigh. Nothing is sacred anymore is it? It's not even that it is Walmart really, although that part does suck. It is that they even try to use some Bill and Ted catchphrases to help push everything. I guess since we have gotten ET selling Xfinity, Bill Murray reprising his Groundhog Day role for Jeep, and even Christopher Lloyd (and Michael J. Fox) selling everything from shoes to Toyota's, none of this should be shocking at all. Hopefully when the movie comes out this summer there isn't some weird Bill and Ted Geico commercial where they have to take Flo around to different periods of time and offer historical figures insurance.
Maybe I shouldn't give the any ideas.